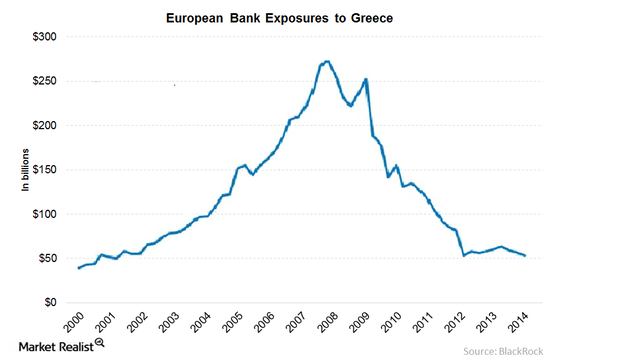 European Banks Seem Well Positioned to Tackle Greek Risk
By Russ Koesterich, CFA

Jul. 13 2015, Updated 11:06 a.m. ET
The European Central Bank (or ECB) is providing a credible backstop to the European banking system and is positioned to contain any possible contagion beyond Greece.
The European banking system is in much better shape today than it was in 2011-2012 when the European debt crisis first went mainstream. Banks have recapitalized, and the private banking sector's lending exposure to Greece has dwindled to almost negligible levels, as the chart below shows.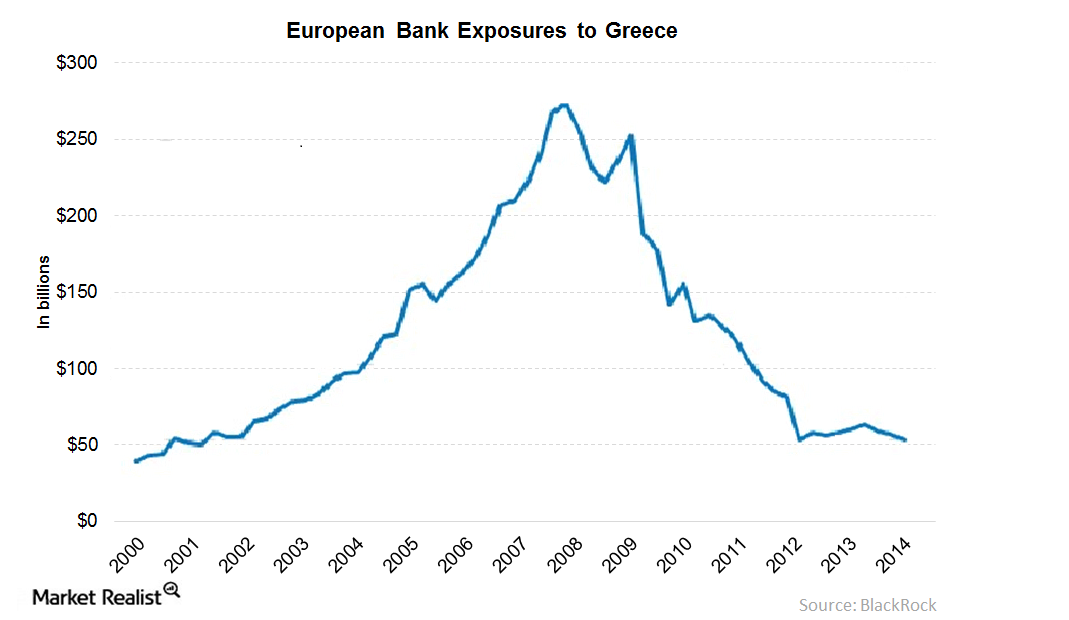 Article continues below advertisement
Market Realist – European banks seem well positioned to tackle Greek risk.
As the graph above shows, European banks' lending exposure to Greece (GREK) has fallen significantly. At the cusp of the financial crisis in 2008, exposure was as high as ~$275 billion USD. It currently stands at ~$50 billion, which is a significant dip from the highs of 2008.
Also, European banks currently have much better capital adequacy ratios. For example, the German Deutsche Bank's (DB) Tier 1 capital ratio has increased from 10.2% in 2009 to 14.6%. Spain's Banco Santander's (SAN) Tier 1 capital ratio has increased from 9% to 12% in the same period. Meanwhile, France's BNP Paribas's ratio stands at ~11.5% currently compared to 8.8% in 2009. A higher capital adequacy ratio means banks can absorb a reasonable amount of loss. Banks should have a statutory capital adequacy ratio in order to protect depositors and promote the stability and efficiency of financial systems.
Better capital adequacy ratios mean that European banks are well equipped to deal with any default from Greece. Any contagion should be limited to the lending exposure to Greece, which could be absorbed easily.
The risk to the Eurozone (EZU)(VGK) is mainly political, as we discussed in the previous parts of this series. Read on to the next part to find out how you can hedge the Grexit.