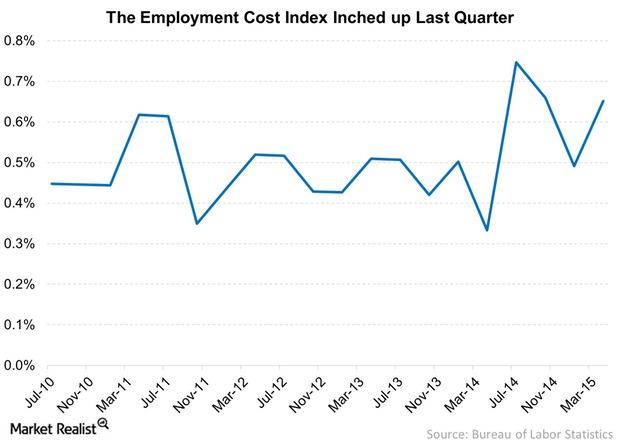 Employment Costs Increased in the First Quarter
By Rick Rieder

Jul. 20 2015, Updated 9:07 a.m. ET
Wage gains on the horizon
To be sure, stronger average earnings growth is still a missing component of the US labor market recovery. However, one of the primary reasons for June's stagnant hourly earnings is the composition of jobs being created. The new jobs appear to be in sectors that are lower paying, keeping the average levels lower than might otherwise be the case. Looking forward, I expect to see stronger wage gains in the near future, given the wage improvement that has been displayed by other indicators in recent quarters, such as the Employment Cost Index (or ECI). I'll be closely watching the ECI at month's end to get another view on the wage picture.
Article continues below advertisement
Market Realist: Employment costs increased by 0.7% in the first quarter
The US Employment Cost Index, or ECI, is prepared quarterly by the Bureau of Labor Statistics. It mirrors the changes in the costs of labor for businesses in the United States (SPY)(QQQ).
Its counterpart is the Consumer Price Index, or CPI. While the CPI is a measure of inflation in consumer prices, the ECI gives an indication of whether employment costs are rising or falling by measuring inflation in wages. The ECI is an input into government salaries and is often cited by the Federal Reserve when setting policy.
As you can see in the graph above, the ECI picked up in the previous quarter, growing by ~0.7%. Wage inflation is critical. Wage inflation leads to higher disposable income, which in turn leads to higher consumption. That's why higher wages are positive for consumption-related sectors such as staples (XLP), discretionary (XLY), and retail (XRT).
Companies including Walmart (WMT), Target (TGT), and many more hiked their respective minimum wage rates in recent months. For more on this topic, read Why Is the Economy in Decent Shape?
In the next part of this series, we'll delve into consumption trends.