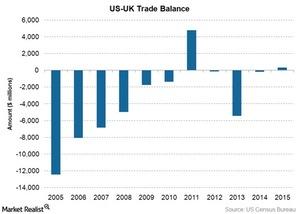 eBay Marketplaces Could Boost Business in Europe
By Matilda James

Updated
eBay: A platform for small businesses to sell goods in Europe
eBay (EBAY) plans to grow its marketplace in Europe (EFA) by giving small and medium-sized businesses access to technology and distribution, which they lack on their own. Recently, European regulators have been closely analyzing and investigating the growing presence of US tech (technology) giants. Policymakers have been specifically investigating the tax practices and impact of these tech companies on Europe's digital economy.
Article continues below advertisement
In its response to these strict regulations, eBay conducted a study across European small businesses. The study revealed that about 130,000 businesses in Europe that joined eBay in 2011 sold products worth $20.22 billion via the platform. This suggests that eBay could have a positive impact on Europe's digital economy and in turn will promote cross-border trade.
United Kingdom: An attractive tax destination
Most US multinationals have businesses in the United Kingdom. Some American companies have shifted their tax bases there. The attractive tax destination has helped these companies reduce their tax bills by considerable amounts. The above graph depicts the US-UK trade balance in the last ten years, according to the U.S. Census Bureau.
Recently, investigations by Eurozone regulators forced Amazon (AMZN) to change its tax practices in Europe. Amazon's move will force other tech giants such as Google (GOOGL), Facebook (FB), and Apple to take appropriate measures to deal with the ongoing investigations.
Like Amazon, Google has also been facing allegations of routing all its profits through Ireland instead of the United Kingdom. Eurozone regulators have been investigating the tax deals Ireland has granted Apple.