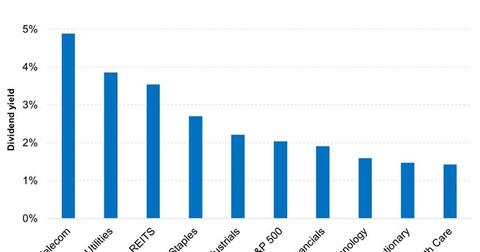 Why Dividend Stocks Have Underperformed This Year
By Sanmit Amin

Updated
Higher yields
As we mentioned in the previous part of this series, some investors have turned to stocks with higher dividend yields as a substitute for bonds in search of higher yields.
Article continues below advertisement
Telecom stocks have the highest dividend yields
The graph above shows the current dividend yield on various sectors. The dividend yield measures dividends payed by a company in the last 12 months relative to its share price. It's usually expressed as a percentage.
Telecommunications, utilities, REITs, and consumer staples (XLP) are currently the top dividend-paying sectors, with dividend yields of 4.9%, 3.9%, 3.5%, and 2.7%, respectively. The dividend yield for the S&P 500 (IVV) is currently 2.0%.
However, watch out for sectors like financials (KRE) and technology (QQQ), which could see a rise in dividend yields in the coming months. These sectors are currently lying at the bottom of the pack, though, as far as dividend yields are concerned.
Dividend stocks have underperformed this year so far
The second graph shows the performance of the Utilities SPDR ETF (XLU) and the Vanguard REIT ETF (VNQ), which are two of the highest-dividend–paying sectors. In 2011, XLU and VNQ gave returns of 19.1% and 6.7%, respectively, compared to the -1.2% of S&P 500. In 2011, we saw a steep dip in interest rates as the Fed bought Treasuries aggressively. The ten-year Treasury (IEF) yield dipped by a whopping 150 basis points in 2011.
The two ETFs gave decent returns in 2012, when interest rates stayed put. 2013 saw a rise in interest rates as the Fed contemplated tapering its bond-buying program, which led to muted returns by the two ETFs. The S&P 500 gained close to 30%. Last year, though, the yield on the ten-year fell by ~80 basis points. XLU gained 30.88%, while VNQ grew by 30.4% in 2014. The S&P 500 gained ~12% in 2014. This year, both XLU and VNQ have given negative returns due to the looming rate hike, while the broader index has been more or less flat.
As you can see, these sectors have performed well when interest rates have fallen and have underperformed when rates rise. Read the next two parts of this series to find out why.