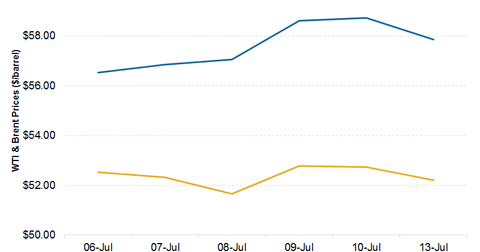 Crude Oil Prices Slide in Week Ended July 13 on Global Negativity
By Keisha Bandz

Updated
Crude oil prices
WTI (West Texas Intermediate) crude oil prices closed 0.6% lower, at $52.2 per barrel, in the week ended July 13. In contrast, Brent crude rose by ~2.3% on a weekly basis, closing at $57.85 on July 13.
When prices fall, it's negative for oil producers such as ConocoPhillips (COP), Chevron (CVX), Occidental Petroleum (OXY), and Apache (APA). They get lower prices for their product.
Combined, these companies make up 21% of the iShares U.S. Energy ETF (IYE).
Lower prices don't bode well for MLPs (master limited partnerships) either. MLPS such as Plains All American Pipeline Partners (PAA) transport crude oil. Lower prices could translate into lower produced and transported volumes for these MLPs, meaning reduced revenues.
Article continues below advertisement
Weekly recap
Between Monday, July 2, and Thursday, July 6, WTI crude oil prices fell by ~7.7% to settle at $52.53 per barrel. Meanwhile, Brent fell by ~6.3% and closed at $56.54 per barrel. Prices fell on account of uncertainty about the financial crisis in Greece, which has upset global markets. Volatility in the Chinese stock market also had a hand in pushing prices lower, as did speculation surrounding talks with Iran, which could potentially inject more oil into already oversupplied markets.
WTI continued to drop on Tuesday, falling by ~0.4% to settle at $52.33 per barrel. Brent, meanwhile, rose by a slight 0.5% to settle at $56.85 per barrel on Tuesday.
WTI oil prices continued to fall on Wednesday as well, following the release of the U.S. Energy Information Administration's bearish crude oil inventory report. WTI crude fell 1.3% to settle at $51.65 per barrel. At the same time, Brent continued inching higher, rising 0.3% to settle at $57.05 per barrel. Read more about the July 3 weekly crude inventory report at Nationwide and Cushing Crude Oil Inventories Up, WTI under Pressure.
On Thursday, WTI crude oil prices rebounded when Chinese stock markets stabilized and Iran talks appeared to stall. WTI rose by ~2.2%, and Brent crude oil rose by 2.7%, closing at $52.78 per barrel and $58.61 per barrel, respectively.
WTI prices remained mostly flat on Friday. They closed at $52.74 per barrel, while Brent settled at $58.73 per barrel, 0.2% higher than at the previous close.
On Monday, July 13, both benchmarks fell on news of a positive conclusion to Iran talks. WTI prices fell by 1% to close at $52.20 per barrel, and Brent fell by ~1.5% to settle at $57.85 per barrel.