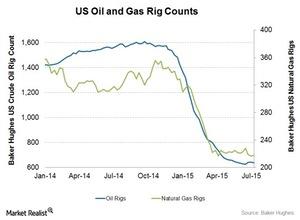 Crude Oil and Natural Gas Rig Counts Changed Course Last Week
By Alex Chamberlin

Updated
Crude oil and natural gas rigs
In the week ended July 17, the US rig count decreased by seven active crude oil rigs, which was partially offset by an increase of one natural gas rig. This marked a reversal in crude oil and natural gas rig counts after two weeks.
In the 12 months ended July 17, the total US crude oil and natural gas rig count fell by 1,014, or 54%. The number of active oil rigs fell by 916, or 59%. The number of natural gas rigs fell by 97, or ~31%, over this period.
Article continues below advertisement
Why rig count trends matter
Rig counts tell us how many rigs are actively drilling for oil and gas. Analyzing the change in the number of active rigs can help us understand how long-term supply could evolve. Oil and gas rig counts signal how confident producers are about drilling for oil and gas.
If the rig count continues to fall, it could indicate potential stagnation in supplies or even a fall in the production of oil and gas in the months to come. In contrast, rising rig counts point to a potential increase in production.
Effect on energy companies
Lower crude oil and natural gas production would negatively affect midstream energy MLPs like Williams Partners (WPZ), Energy Transfer Partners (ETP), MarkWest Energy Partners (MWE), and Enbridge Energy Partners (EEP).
The 54% fall in active rigs in the past year indicates a fall in exploration and production activity by upstream oil and gas companies. Apart from upstream and midstream energy companies, the falling natural gas rig count would also negatively affect natural gas compression services providers like Exterran Holdings (EXH) and Exterran Partners (EXLP). This trend would also negatively affect Dresser-Rand Group (DRC), which provides equipment for oil and gas transportation. Drill equipment makers like Core Laboratories NV (CLB) and C&J Energy Services (CJES) also suffer if the crude oil rig count decreases. Core Laboratories forms 2.5% of the VanEck Vectors Oil Services ETF (OIH).
A lower rig count should reduce oilfield service companies' revenue as upstream companies reduce exploration and production activity and push oilfield service companies for lower contract terms or day rates to save on costs.