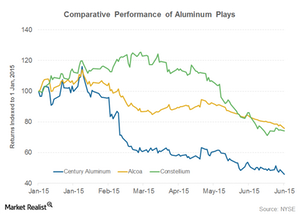 What Will Drive Alcoa? Commodity Prices or Transformation?
By Mohit Oberoi, CFA

Updated
Alcoa's transformation
With more than half of the current year behind us, it's a good time to analyze Alcoa's (AA) 2015 performance. Wall Street performance of aluminum plays like Alcoa, Century Aluminum (CENX), and Constellium (CSTM) has lagged behind broader markets (SPY) by a huge margin.
Article continues below advertisement
Aluminum producers are underperforming
The above graph shows the recent stock market performance for aluminum companies. As you can see, Century Aluminum lost more than 50% value so far this year. Alcoa has been no better, losing a quarter of its market capitalization since the beginning of the current year. South32 (SOUHY), which debuted on the stock exchange only about a month ago, has also traded weakly.
As of June 29, SPY, which tracks the performance of the S&P 500 index, has gained 3.18% year-to-date.
Series overview
Most aluminum companies delivered decent stock market returns last year. So what has gone wrong with aluminum producers like Alcoa? Until about six months ago, Alcoa seemed to be doing pretty well. The company's transformation strategy on which it has restructured several of its operations was expected to enhance shareholder value.
In this series, we'll explore why Alcoa has underperformed in the first half of the current year. More importantly, we'll look at how it seems to be placed for the remainder of the year. If you remember, at the beginning of the year, we looked at why Alcoa's halcyon days of 2014 could be over.
We'll also go over Alcoa's transformation strategy in this series. One of the focus areas Alcoa has been working on is delinking the company's fundamentals from aluminum price volatility. But is Alcoa immune from commodity shocks? We'll find out in the next part.