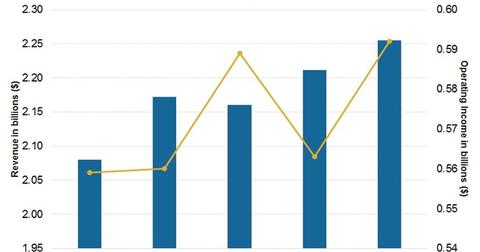 How Colgate Is Capitalizing on the Pet Nutrition Market
By Penny Morgan

Jul. 31 2015, Updated 8:05 a.m. ET
Pet nutrition segment overview
Colgate (CL) is a multi-national consumer staples (XLP) firm. While the company's primary focus is on oral healthcare, as we discussed in previous articles in this series, it also operates in the pet nutrition business under the brand name Hill's.
The Hill's pet nutrition segment specializes in nutrition products for dogs and cats. These products are marketed in over 95 countries worldwide. Hill's markets pet food under three trademarks:
Hill's Science Diet, which meets everyday nutrition needs
Hill's Prescription Diet, which helps manage disease conditions for dogs and cats
Hill's Ideal Balance range of products, which include natural ingredients
All of Hill's products are sold by authorized pet supply retailers and veterinarians.
Article continues below advertisement
Revenue contribution to Colgate
The revenue from Hill's for 2014[1. Year ending December 31, 2014] was reported at $2.3 billion. It contributed 13.1% to the company's total revenue. The segment's organic sales increased 4%. The increase in sales came about due to both higher unit volumes, which were up 1%, and higher average prices, which were up 3%. Reported revenue was however affected by negative foreign exchange movements. The higher US dollar had a 2% negative impact on reported sales.
The segment's operating profit increased 5.2% in 2014 to $0.6 billion, or ~26.3% of net sales.
Geographic concentration
Due to the increasing number of pet lovers across the globe, the demand for pet nutrition products is on the rise. New product introductions in the US like Hill's Ideal Balance Slim & Healthy, Hill's Science Diet Perfect Weight, and new Soft Savior treats, have helped in driving sales in the US market.
New product introductions driving volume growth internationally include Hill's Prescription Diet Metabolic, Hill's Ideal Balance, Hill's Science Plan Small & Miniature Breed, and Hill's Science Diet Perfect Weight.
Future outlook
Peers like Clorox (CLX) and Kimberly-Clark (KMB) do not operate in the pet nutrition segment. This gives Colgate huge opportunities for growth in both local and international markets.
Earlier, Procter & Gamble (PG) operated in the pet care segment. In 2014, P&G divested the pet care business from its portfolio to Mars for $2.9 billion.
To learn more about Procter and Gamble's divestitures, please read, Procter & Gamble and Its Profitable Divestitures.
CL and PG have exposure in the iShares S&P 100 ETF (OEF) with weights of 0.5% and 1.9%[2. Updated as of July 9, 2015], respectively.