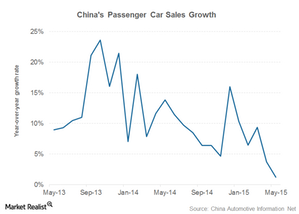 The Chinese Slowdown Could Hurt General Motors' Q2 Earnings
Chinese slowdown
Previously in this series, we discussed how the dollar's gains against major currencies could dent the Q2 earnings of US automakers. In this part of the series, we'll analyze how the Chinese slowdown could hit the automobile industry. Leading automakers had chalked out ambitious plans for the Chinese market. However, China is witnessing its worst economic slowdown in at least the last 24 years.
Article continues below advertisement
Massive overcapacity leading to price wars
The growth rate of China's vehicle sales has slowed in the last couple of months. You can see this trend in the chart above. The Chinese automobile industry is suffering from massive overcapacity. Automakers like General Motors (GM) are doling out huge incentives to push their sales. Though General Motors' sales in China increased modestly in June, we'll have to wait for the company's Q2 earnings release to see how profitable its Chinese (FXI)(MCHI) operations have been. Please note that China is the highest-volume market for General Motors.
Chinese auto sales growth could stay muted
The Chinese government is taking steps to boost its ailing economy. It has cut its benchmark one-year lending rates four times since November. Lower lending rates could lead to a modest increase in auto sales in the coming months. It's worth noting that there's always a lag before central bank actions start reflecting in the real economy. We'll have to wait to see if China's economic activity picks up. The slowdown in the Chinese automobile industry should also hit companies like Ford (F) and Toyota Motors (TM).
Auto companies' European and South American operations could also remain under pressure. We'll explore this outlook in the next part of this series.