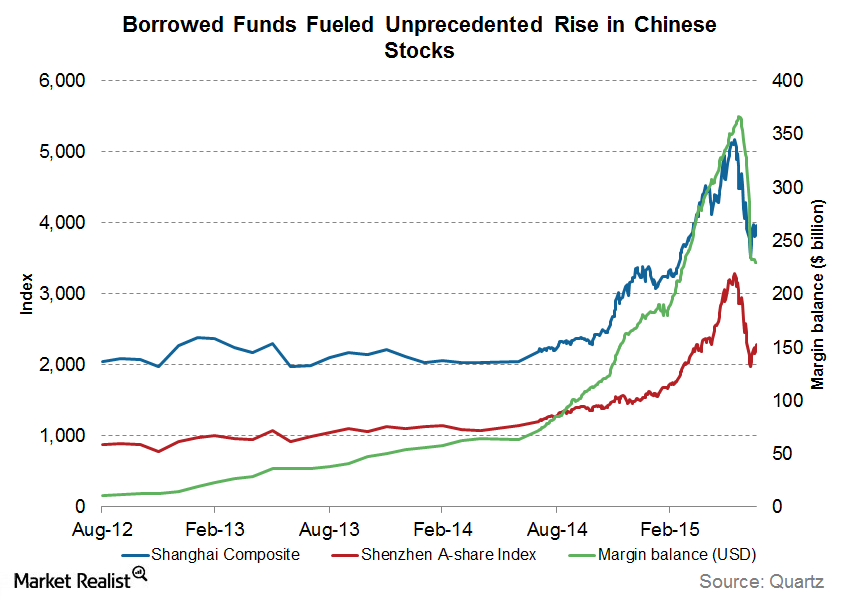 Why a Chinese Market Slump Won't Affect the Economy
By Russ Koesterich, CFA

Dec. 4 2020, Updated 10:51 a.m. ET
The linkage between China's economy and its stock market isn't particularly strong
Unlike in the U.S. (IVV), Chinese companies tend to access capital through bank lending rather than through equity markets, though the Chinese government is trying to encourage greater equity market capitalization via reforms. Indeed, the size of the Chinese stock market (FXI) relative to China's gross domestic product (or GDP) is fairly small.
Article continues below advertisement
Stock weakness caused by the Chinese market slump won't lead to economic weakness
Stock weakness does not necessarily lead to economic weakness, and this is true across economies. In fact, stock market weakness generally has less impact on the real economy than real estate weakness. In the U.S., where market cap relative to GDP is much larger than in China, the bursting of the tech bubble in 2000 (IYW) only resulted in a particularly mild recession.
Market Realist – As we discussed in the previous article, the Chinese market slump (MCHI) largely occurred due to margin lending. Margin balances saw an exponential rise over the past year and in turn drove stocks higher, as you can see in the above graph.
The Chinese market slump is not likely to dampen consumer spending or affect the economy. According to a note by Qu Hongbin, HSBC chief economist for Greater China, stocks make up a mere 15% of household financial assets. The note also stated that "equity issuance accounts for less than 5% of total social financing." Chinese households prefer to hold the bulk of their wealth in cash and deposits instead of equities, as you can see in the above graph.
Moreover, stock ownership is limited in China. According to Business Insider, reporting on a recent survey in China, only 9% of urban households owns stocks. To put this into context, this figure is almost 50% in the United States (VTI). So the Chinese market slump is not likely to derail the economy or consumer spending in China.
In the next part of this series. we'll see how the Chinese economy is slowing down, but at a measured pace.