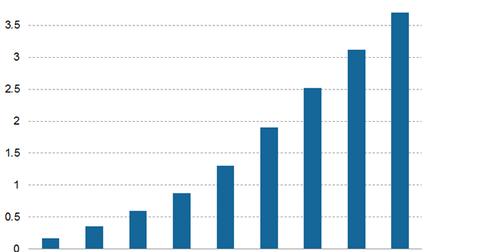 Are Chinese Internet Stocks a Safe Bet in the Long Run?
By Adam Rogers

Updated
Alibaba dominates usage share among online portals
Alibaba's (BABA) Taobao as well as Tmall have continued to maintain their dominant position in user engagement among online Chinese portals with as much as 79% of total online hours spent on these websites. The time spent on Taobao rose 4% on a YoY (year-over-year) basis, while user engagement on Tmall fell by 4% due to low consumer spending.
Article continues below advertisement
Youku dominates online video website segment
Youku is China's version of YouTube. It has accounted for 26% of online views. It's ahead of rival firm Baidu's iQiyi which has a 24% market share. According to reports from iResearch, online video sales in China are expected to rise by 52% to $5.9 billion in 2015. Alibaba has invested in Youku. It has been exploring licensing and production partnerships with a number of media companies.
Online payments will likely triple by 2018
In China, the online payment volume is expected to triple by 2018 to $3.7 billion, according to a report from iResearch. The segments that are expected to drive this growth include online shopping, travel, and financial and banking services.
Currently, Alibaba's Alipay is leading the online payment market with 49.6% of the transaction volume in 2014 due to e-commerce platforms like Taobao and Tmall.
Search sales grow for Baidu on rising mobile contribution
Mobile search sales in China rose to $2.7 billion in 2014 and account for 29% of the total market. In China, search engine revenue is expected to rise by 300% as well to $26.8 billion. Baidu (BIDU) is the market leader. It accounted for 82% of revenue in 2014. The majority of advertising revenue was from mobile devices.
In this series, you can see that the potential for growth, especially in Chinese Internet stocks, is tremendous. The three tech ETFs also generated substantial returns for investors.
Baidu accounts for 1.12% of the Power Shares ETF (QQQ). Its main competitors include Sina (SINA) and Sohu (SOHU).