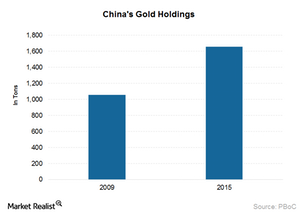 China Solves the Mystery about Its Gold Reserves
By Meera Shawn

Jul. 31 2015, Updated 3:27 p.m. ET
China's gold reserves
Gold has been appreciated as the epitome of power and wealth, especially in Asian countries. China consumes the most gold. It affects the metal's prices significantly. In the past, the Chinese government's lack of transparency on the amount of gold that's imported to China directly or through Hong Kong has raised many questions. During 2014, Switzerland sent ~377 metric tons of gold to Hong Kong and ~213 metric tons to China. China's hoarding behavior shocked the rest of the world.
Article continues below advertisement
The gold standard
In retrospect, if China has been hoarding gold in order to implement the gold standard, it will impact the world economy. It can increase the power of the yuan. Major transactions for the central banks in Asian, African, and Middle Eastern countries could become denominated by the yuan. Also, this could help China achieve its goal of gaining an international presence for its currency. It could make the yuan an alternative currency to the US dollar.
The IMF (International Monetary Fund) was updated on China's gold reserves in 2009. It had 1,054 tons. Five years of silence and no formal update on the reserves has intensified the speculative scenario. On July 17, 2015, the PBOC (People's Bank of China) opened up its treasure trove. It stated that it holds 1,658 metric tons of the precious metal. The figures were still far below analysts' expectations. The current figures have got China ahead of Russia. It's the fifth largest country in regards to gold reserves. It's the largest producer and consumer of gold.
Disclosure effects
On July 17, 2015, gold reached the lowest mark since 2010. It was $1,131 per ounce. It fell ~1.05%. The five-day trailing loss was 4.07% and a 30-day trailing loss of 7.74%. The fall continued and the gold price, according to the last trading day, was $1,094.80 per ounce with a low of $1,089.80.
The fall in prices has also affected other gold funds like the SPDR Gold ETF (GLD). It fell 6.41%. The iShares Silver Trust (SLV) fell 5.85%. They both fell on a 30-day trailing basis. The last trading day wasn't as painful and most of the gold mining companies rose. Goldcorp (GG) rose 1.66% and Barrick Gold (ABX) rose 114.93%. Also, the VanEck Vectors Gold Miners ETF (GDX) rose by 2.05%. South Africa-based Gold Fields (GFI) also rose 1.45% on the last trading day.