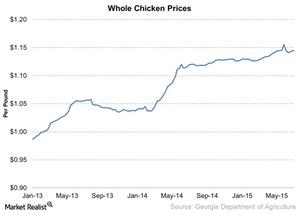 Chicken Prices Remain Firm Despite Avian Flu Outbreak
By Adam Jones

Updated
Chicken prices climb but remain firm
The price of chicken has climbed steadily over the past two years, rising steeply in 2014. The price for whole chicken as of June 6, 2015, stood at $1.14 per pound, which was unchanged from a week ago.
The United States is the largest poultry producer and the second largest poultry exporter in the world, according to the USDA (U.S. Department of Agriculture). In June 2015, US markets were hit by the avian flu, which infected thousands of birds. It would be natural to think this would lead to a shortage of supply and an increase in prices, but prices have remained firm.
Article continues below advertisement
How this impacts restaurants
The flu impacts the export sector the most. Countries such as Mexico, Canada, and China have placed a partial to full ban on US chicken imports. According to the USDA, the production of broiler chicken was not impacted.
With countries banning US poultry and no impact on broiler chicken production, there will be a surplus, which will lead to a drop in prices. Restaurants serving chicken items will benefit from this low export activity.
Chicken production is not as volatile as other proteins because altering a chicken supply takes the least amount of time, only 9 months. For beef, a producer needs 36 months to alter supply, and for pork it needs 20 months, according to Tyson Foods (TSN).
Restaurants that have recently been impacted by high beef prices may benefit by offering more chicken options. Shake Shack (SHAK) recently launched a chicken sandwich, which is a good way to diversify its beef-heavy menu.
Restaurants such as Popeye's (PLKI) and KFC under the umbrella of Yum! Brands (YUM) will certainly benefit from this surplus. The Consumer Discretionary Select Sector SPDR (XLY), which holds 4% of McDonald's (MCD), will also benefit from favorable chicken prices.
The most important commodity for the proteins we've already discussed is corn. Read on to the next part of this series to know why.