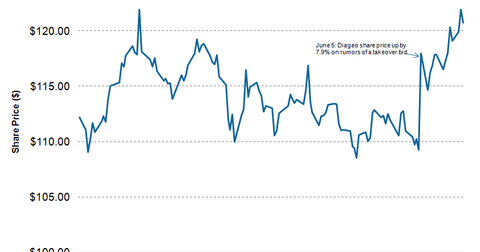 What Caused a Spike in Diageo's Stock Price in Early June?
By Sirisha Bhogaraju

Updated
Diageo's stock price rises
A London-based multinational alcoholic beverages company, Diageo's (DEO) (DGE.L) stock price increased by 7.9% to $118.00 on June 5 following speculation of a takeover bid by Brazilian billionaire Jorge Paulo Lemann. Lemann is one of the co-founders of the private equity group 3G Capital. The news of the rumored takeover was first reported by the Brazilian newspaper Veja.
As of June 24, 2015, Diageo's stock was trading at $120.77, reflecting a 2.3% rise in the share price since the June 5 news of the takeover. This appreciation could also be attributed to the upgrade in Diageo's rating by five analysts since June 5.
Article continues below advertisement
Takeover speculation
Some analysts believe that 3G Capital, which has a meaningful stake in beer market leader Anheuser-Busch InBev (BUD) (ABI.BR), might be interested in Diageo's beer business. Anheuser-Busch InBev makes up over 0.3% of the portfolio holdings of the Vanguard FTSE All-World Ex-US ETF (VEU).
Private equity firm 3G Capital has been involved in several transactions in the food and beverage industry, and it purchased Burger King in 2010 and H.J. Heinz in 2013. In December 2014, 3G Capital combined Burger King and Tim Hortons to form Restaurant Brands International. Currently, 3G Capital, along with Berkshire Hathway (BRK-B), is working on the merger of H.J. Heinz and Kraft Foods (KRFT).
SABMiller (SBMRY) (SAB.L), one of the leading beer producers, was also the subject of similar takeover speculation in February 2015. Also, rumors about the potential acquisition of SABMiller by Anheuser-Busch InBev resurface from time to time. Tough business conditions have resulted in some notable consolidations in the beer industry. Anheuser-Busch InBev and MillerCoors dominate the beer industry. MillerCoors is a joint venture of SABMiller and Molson Coors Brewing (TAP).
Diageo, a dominant player
British multinational Diageo is a leading alcoholic beverage company that owns top ranking brands, including Johnnie Walker, Buchanan's, Crown Royal, Smirnoff, and Guinness. Spirits comprise the largest product category of the company, accounting for 72% of net sales in the first half of fiscal 2015 ending December 31, 2014. Beer and wine accounted for 17% and 4%, respectively, of net sales in the first half of fiscal 2015. The remaining sales are derived from the ready-to-drink and other categories.
The next article discusses the weakness in Diageo's recent performance.