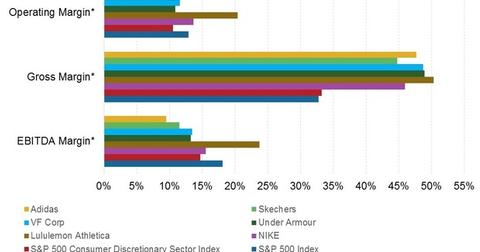 Can Nike Become as Profitable as Lululemon Athletica?
By Phalguni Soni

Updated
Nike's revenue mix
Nike's (NKE) profitability rose in both 4Q15 and fiscal 2015. Gross margin leveraged by 1.2% for the year to come in at 46%. The improvement in margins came about as the company sold more products through direct-to-consumer (or DTC) channels. The percentage of Nike brand DTC sales in the sales mix rose from 20.3% in fiscal 2014, to 23.1% in fiscal 2015.
DTC revenue includes sales made through Nike's owned stores and e-commerce websites. Products sold through the DTC channel typically earn higher margins, as prices are higher through company-owned stores. The online channel has comparatively lower overhead, which also benefits profitability.
Article continues below advertisement
Cost factors
However, the company did report cost headwinds on several fronts. Freight costs came in higher on account of the West Coast ports logjam. This was due to diverting shipments to ports not facing unloading issues and higher airfreighting costs, according to Don Blair, CFO.
Higher wage and input costs and operating overheads also exerted pressure on the bottom line. Operating overheads were up by 13%. The company's DTC overheads and occupancy costs increased significantly as 64 new stores were opened in the year.
Operating margins rise
Operating margins were partly offset by a lower demand creation expense and effective tax rate. Last year's soccer World Cup had inflated demand creation expense, benefiting year-over-year comparisons.
Nike's operating income margin came in at 13.6%, compared to 12.9% for the S&P 500 Index (SPY) (VOO). The S&P 500 Consumer Discretionary Sector (XLY) has an average operating income margin of 10.5%.
Article continues below advertisement
Peer group comparisons
Cost factors relating to higher freight costs and DTC overhead affected peers Under Armour (UA), Lululemon Athletica (LULU), and VF Corporation (VFC) as well. However, since Nike's margins are some of the lowest in its peer group, improvement in the DTC channel mix benefited margins.
But peers experienced margin contraction last quarter. LULU, which derives almost all of its sales from the DTC channel, earned a gross margin of 50.3% in the trailing 12-month period. Web sales contributed almost 20% to LULU's top line.
Nike versus LULU
LULU's vertically integrated model provides more opportunities for cost-cutting in the supply chain. And while Nike's target reflects an improvement in gross margin by 0.3% to 0.5% each year through fiscal 2017, LULU aims to move closer to the 55% to 57% gross margin range it enjoyed in 2012.
Nike surpassed its gross margin target in fiscal 2015. The company should also benefit from its footwear tilt in the sales mix. Marquee footwear brands, product customization, and accelerating e-commerce sales should also help raise margins closer to peers.