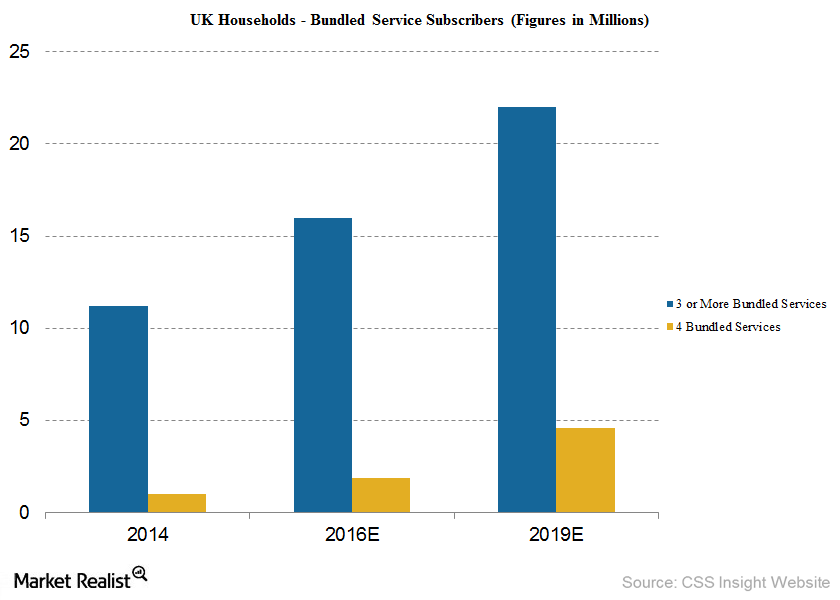 Bundled Services Spark Network Upgrades in Europe
By Adam Rogers

Jul. 29 2015, Updated 3:06 p.m. ET
Bundled services to dominate customer relations
Subscriptions to bundled services are expected to increase considerably in the next few years. It's estimated approximately two-thirds of European households subscribe to both fixed and mobile telephones services, whereas over 45% subscribe to a "bundled package" from a single service provider. Growth in broadband connections has been crucial to the success of bundled services.
Soon, telecom companies will have to upgrade networks to keep pace with both retail customer demand for bandwidth as well as upcoming government broadband strategies.
Article continues below advertisement
80% of UK households to sign up for bundled telecom services by 2019
According to research firm CCS Insight, approximately 80% of households in the United Kingdom will buy two or more services—broadband, telephone, mobile, and PayTV—from the same provider by 2019. Due to market consolidation and the constant increase in multipay services, the year 2016 is set to define the UK's telecom demand for bundled services. CCS Insight's consumer survey found that 61% of customers who currently don't have a service bundle will consider buying one.
It's estimated that by 2016, 16 million UK households will have a bundle of three or more services—a 43% increase over 2014. By December 2019, 4.6 million UK households will sign up for four services, up from 1 million in 2014.
Most telecom companies are expected to bundle several services into various packages and sell them to existing and potential customers. The pay-TV segment is expected to receive a significant boost in 2016 and 2017, as telecom companies such as BT Group (BT) will be looking to consolidate market share in this sector.
Paolo Pescatore, Director of Multiplay and Media at CCS Insight, said, "Our surveys reveal that consumers find it more convenient and better value to buy broadband, mobile, TV and land-line access from one company, so established providers that can offer all these services are in a strong position. Once multiplay packages are the norm, it'll be the exclusive content on offer that'll set providers apart. It's little wonder we're seeing a frenzy of acquisitions as leading players scramble to secure assets."
AT&T–DIRECTV merger to encourage bundling of services
Bloomberg recently reported that the AT&T (T)–DIRECTV (DTV) deal, worth $67.1 billion, is set to be cleared by antitrust authorities. The merger would allow AT&T to bundle broadband Internet access and voice services with DIRECTV's video services. The combined company would also be able to offer standalone broadband at speeds of at least 6 Mbps (megabits per second) for customers who prefer only broadband and who may consume video through an over-the-top service like Netflix (NFLX).
This merger would help AT&T extend its footprint in Latin America. Meanwhile, its competitors—Verizon (VZ), Sprint (S), and T-Mobile (TMUS)—have yet to make a mark in this market.
AT&T constitutes 10.72% of the iShares U.S. Telecommunications ETF (IYZ).