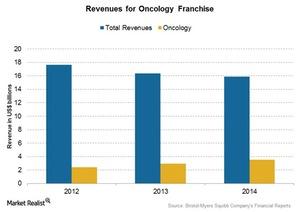 Bristol-Myers Squibb's Oncology Franchise
By Mike Benson

Updated
Oncology franchise
Bristol-Myers Squibb's (BMY) oncology franchise is committed to developing and marketing innovative medicines for the treatment of cancer.
Article continues below advertisement
Key products
There are four key products under the oncology franchise. Two of these contributed more than $1 billion in 2014. The products are Erbitux, Opdivo, Sprycel, and Yervoy.
Erbitux (cetuximab) is a monoclonal antibody designed to exclusively target and block the epidermal growth factor receptor. Erbitux is expressed on the surface of certain cancer cells in multiple tumor types as well as normal cells. It's also used in the treatment of metastatic colorectal cancer and squamous cell carcinoma of the head and neck. Erbitux is part of BMY's alliance with Eli Lily and Co. (LLY).
Opdivo (nivolumab) is a fully human monoclonal antibody being investigated as an anti-cancer treatment. Opdivo is part of BMY's alliance with Ono Pharmaceutical Co. Ltd. The European Commission approved Opdivo in June 2015, making Opdivo the first and only PD-1 checkpoint inhibitor approved in Europe for first line as well as previously treated advanced melanoma patients.
Sprycel (dasatinib) is an oral inhibitor of multiple tyrosine kinases indicated for first line treatment of adults with Philadelphia chromosome-positive chronic myeloid leukemia. Sprycel is part of BMY's alliance with Otsuka Pharmaceutical Co. Ltd. The revenues for Sprycel in 2014 increased primarily due to high demand, partially offset by an unfavorable foreign exchange.
Yervoy (ipilimumab) is a monoclonal antibody for the treatment of unresectable or metastatic melanoma. Revenues for Yervoy increased due to higher demands globally.
Research and development
BMY has a robust and diverse pipeline for oncology. BMY is also working on immuno-oncology where the body's immune system is harnessed to fight tumor cells and cure cancer. Through research and development (or R&D), BMY has made advances in prevention, early detection, and treatment of many forms of cancer.
BMY's oncology franchise has competitors like Novartis AG (NVS), Celgene (CELG), and Johnson & Johnson (JNJ). Bristol-Myers Squibb (BMY) forms about 3.8% of the total assets of the Health Care Select Sector SPDR ETF (XLV).