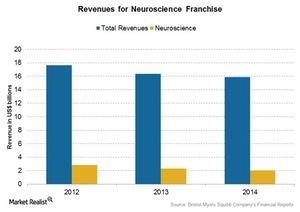 Bristol-Myers Squibb and Its Neuroscience Franchise
By Mike Benson

Updated
The neuroscience franchise
Bristol-Myers Squibb's (BMY) neuroscience franchise deals with disorders of the brain and nervous system.
Article continues below advertisement
Key products for neuroscience
The key product for Bristol-Myers Squibb's neuroscience franchise is Abilify (aripiprazole). This product is an antipsychotic agent for the treatment of schizophrenia, bipolar mania disorder, and major depressive disorder. This product is part of BMY's alliance with Otsuka Pharmaceutical Co. Ltd. Revenues for Abilify have been more than $2 billion since 2012. Of that amount, more than $1.5 billion are from sales in the United States.
Research and development
Neuroscience research is focused on neurodegenerative diseases and disorders such as Alzheimer's disease, psychiatric disorders such as depression and schizophrenia, and neuropathic pain management.
Alzheimer's disease is a progressive neurodegenerative disease that destroys memory and interferes with a person's ability to think, ultimately destroying the individual's ability to carry out simple tasks. More than 30 million people worldwide suffer from Alzheimer's disease.
Depression is a mental illness that has symptoms such as feelings of sadness, loss of interest, despair, and disturbed sleep or appetite. Schizophrenia is a type of psychosis characterized by a disordered thinking process and experiences such as delusions and hallucinations. There are ~121 million people worldwide with depression and ~24 million with schizophrenia, according to the World Health Organization.
Neuropathic pain is caused by a maladaptive response of the nervous system, producing debilitating, spontaneous, and exaggerated pain. An estimated 15 million people in the United States and Europe are affected by this type of pain.
Bristol-Myers Squibb's neuroscience franchise has competitors such as Novartis AG (NVS), AstraZeneca (AZN), Teva Pharmaceutical (TEVA), and Eli Lilly and Co. (LLY). Bristol-Myers Squibb (BMY) forms about 3.8% of the total assets of the Health Care Select Sector SPDR ETF (XLV).