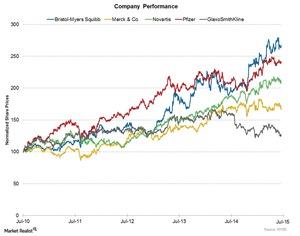 Bristol-Myers Squibb: An American Pharmaceutical Giant
By Mike Benson

Updated
Company overview
Bristol-Myers Squibb (BMY) is an American pharmaceutical company headquartered in New York City. The company deals with innovative medicines for patients with serious diseases in therapeutic areas such as virology, oncology, cardiovascular disease, neuroscience, and immunoscience. Its manufacturing units are spread throughout the United States, Puerto Rico, and six other countries.
Article continues below advertisement
Share price performance
The above graph shows the share price performance of Bristol-Myers Squibb (BMY) compared to its peers. On an annualized basis, BMY delivered returns of 22.2% from July 2010 to June 2015. This is much higher than Merck & Co. (MRK), Novartis AG (NVS), Pfizer (PFE), and GlaxoSmithKline (GSK) with annual returns of 11.2%, 15.6%, 19%, and 4.8%, respectively. The annualized return for the Health Care Select Sector SPDR ETF (XLV) for the same period was 22.1%.
History
Bristol-Myers merged with Squibb in 1989, creating Bristol-Myers Squibb, which was then the world's second largest pharmaceutical company.
The company Bristol Myers was incorporated in 1887 when William McLaren Bristol and John Ripley Myers invested $5,000 in Clinton Pharmaceutical Company, a failing drug manufacturing company in Clinton, New York. Bristol and Myers changed the name from Clinton to Bristol-Myers Company in 1898–1899.
E.R. Squibb was started in 1858 as a pharmaceutical laboratory in Brooklyn, New York, by Edward Robinson Squibb, a U.S. Navy doctor who was unimpressed by the quality of medicines available during the Mexican War.
A few companies that Bristol-Myers Squibb has acquired in the last five years are ZymoGenetics in 2010, Amylin Pharmaceuticals in 2012, iPierian in 2014, and Flexus Biosciences in 2015.
Bristol-Myers Squibb has ~25,000 employees in operations throughout the world as of December 31, 2014.