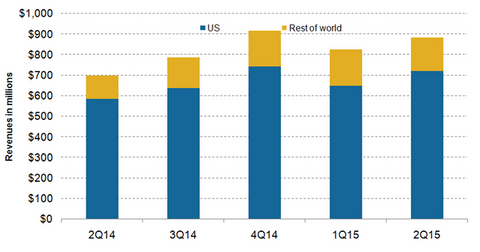 Biogen's Weak 2Q15 Tecfidera Performance Dampens Sentiment
By Margaret Patrick

Updated
Tecfidera Sales
Biogen's (BIIB) revenues from its blockbuster multiple sclerosis (or MS) drug, Tecfidera, increased by 26%, from $700 million in 1Q14 to $884 million in 2Q15. The revenue growth rate was lower than the expected growth rate, dampening investor sentiment.
Article continues below advertisement
Tecfidera performance
Tecfidera was introduced to the US market in 2013, and it proved to be an extremely successful oral MS drug. It won market share from the existing oral MS drugs, Sanofi's (SNY) Aubagio and Novartis's (NVS) Gilenya, as well as from injectable drugs such as Biogen's own drug Avonex as well as Teva Pharmaceutical's (TEVA) Copaxone. Biogen had expected that Tecfidera would be the largest contributor to the company's growth.
Compared to 1Q15, in 2Q15, worldwide Tecfidera sales rose by 7%. US sales rose by 11%, but drug sales in the rest of the world declined by 8% in this period. Pricing and demand pressures in the German market have been the key factors leading to reduced Tecfidera revenues in international markets. The impact, however, was reduced since the drug was well received in newly launched markets such as the United Kingdom, Italy, and Spain, where the drug uptake was similar or even better than that initially seen in the US market.
Tecfidera side-effect
Tecfidera had seen a rapid initial uptake in the market, but it experienced moderated growth in patients in 2Q15. Biogen had assumed that Tecfidera's sales would be higher than historical MS growth rates, as the company expected more patients to switch from the traditional injectable MS therapies to this oral therapy. Also, the company had predicted that more physicians would refer the drug to newly diagnosed MS patients. However, the drug has been associated with a deadly side-effect called progressive multifocal leukoencephalopathy (or PML). PML, which is a rare brain infection, led to the death of a patient taking Tecfidera in October 2014. In December 2014, the Food and Drug Administration (or FDA) released a safety warning against Tecfidera. Biogen's market research has indicated that this case has led to reduced confidence among the physician community.
Instead of directly investing in Biogen stock, investors can reduce exposure to the risk of lower Tecfidera sales by investing in the iShares Nasdaq Biotechnology ETF (IBB). IBB holds 7.48% of its total holdings in Biogen.