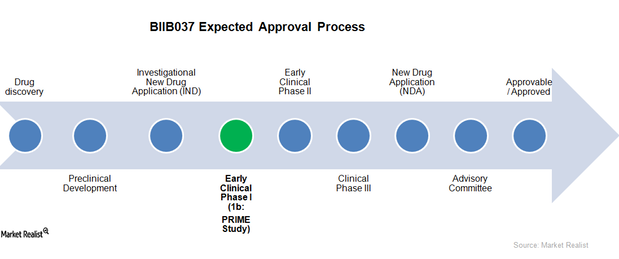 Biogen Presents Data from PRIME Study of Its Alzheimer's Therapy
By Margaret Patrick

Jul. 27 2015, Published 3:02 p.m. ET
PRIME study
On July 22, 2015, Biogen (BIIB) presented new data from the interim analysis of PRIME, the Phase 1b study of its investigational Alzheimer's drug, aducanumab, or BIIB037, at the 2015 Alzheimer's Association International Conference.
Alzheimer's is a disease that affects the cognitive capabilities of individuals. Conducted on 166 patients suffering with prodromal or mild Alzheimer's, PRIME is an ongoing Phase 1b randomized, double-blind, placebo-controlled study.
The above graph shows the current status of the BIIB037 in the FDA (US Federal Drug Administration) drug approval process. To learn more about the various approval phases, please read Drug Approval Process in the Biotechnology Industry.
Article continues below advertisement
In the context of Phase 1b of the clinical trial process, the PRIME study belongs to the first clinical testing phase of BIIB037. In this study, patients with similar demographic characteristics are randomly assigned different treatments under study. Groups of people receiving treatment—test groups—are then compared with those who receive no treatment—the control group. This is called a placebo-controlled study.
PRIME is also a double-blinded study, meaning that neither the patient nor the researcher knows if the patient belongs to the control group or to the test group. Randomized, double-blind, and placebo-controlled study is considered to be the gold standard in clinical trials. This standard is generally adopted by leading biotechnology companies such as Amgen (AMGN), Biogen, Gilead Sciences (GILD), and Regeneron Pharmaceuticals (REGN) for testing the efficacy and safety of their pipeline drugs.
Results
Biogen presented mixed interim results from the PRIME study for its experimental Alzheimer's drug, BIIB037. The study was conducted by administering 6 milligrams per kilogram of the patients' weight for 54 weeks. Biogen uses two scales to measure the level of clinical decline associated with the Alzheimer's Mini Mental State Examination, or MMSE, and clinical dementia rating sum of boxes, or CDR-SB. Though the drug seemed to slow the progression of Alzheimer's, it failed to show a statistically significant improvement in cognition on the MMSE and CDR-SB scales.
Instead of directly investing in Biogen, investors can get diversified exposure to the company by investing in the iShares NASDAQ Biotechnology ETF (IBB). IBB has 7.48% of its total holdings in Biogen.