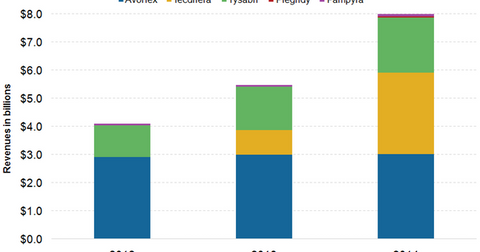 Biogen: Global Leader in the Multiple Sclerosis Market
By Margaret Patrick

Updated
Multiple sclerosis market
Biogen (BIIB), a biotechnology leader in the multiple sclerosis (or MS) market, earns about 47% of the total global MS revenues. The multiple sclerosis segment also forms a core revenue driver for Biogen, accounting for more than 80% of the company's total revenues. The MS market is a large, growing market with global drug sales worth $16.8 billion in 2014.
Article continues below advertisement
Biogen's MS drugs
The above graph shows that Biogen's total MS revenues increased at an annualized rate of 24.9%, from $4.1 billion in 2012 to $8.0 billion in 2014. This growth is mainly driven by increased sales of its drugs Tecfidera and Tysabri.
Tecfidera was introduced to the US market in 2013, and it has proved to be an extremely successful oral MS drug. It won market share from the existing oral MS drugs, Sanofi's Aubagio and Novartis' (NVS) Gilenya. Biogen expects that Tecfidera will be the largest contributor to the company's growth.
Tysabri is also a key product, originally co-marketed by Biogen and Elan Pharmaceuticals. However, it was taken off the market in 2005 when a severe brain-related infection was linked to the drug. Reintroduced in 2007, Tysabri has rebuilt its customer base. In 2013, Biogen purchased Elan's interests in Tysabri for $3.25 billion.
Article continues below advertisement
Improved drugs
Avonex was approved by the Food and Drug Administration (or FDA) in 1996. In August 2014, Biogen introduced Plegridy, a long-acting improved form of Avonex. The company expects Plegridy to cannibalize Avonex's sales as patients switch to a better version of the same drug. Although the switch is not beneficial to the company in the short term, it is supposed to boost Biogen's revenues in the long run.
Although the price of both drugs is nearly similar, Plegridy must be injected in the MS patient once every two weeks while Avonex has to be injected once a week. The reduced dosage frequency is expected to boost Plegridy's sales and help the drug win market share from rival drugs such as Merck's (MRK) Rebif, Bayer Healthcare's Betaseron, and Teva Pharmaceuticals' (TEVA) Copaxone.
Investors can get exposure to the growing multiple sclerosis treatment market while reducing company-specific risks by investing in the iShares NASDAQ Biotechnology ETF (IBB). IBB holds 7.48% in Biogen stock.