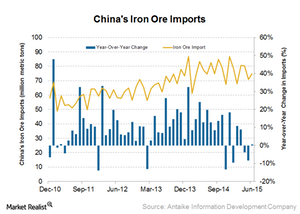 How Big Is the Chinese Appetite for Iron Ore Imports?
Importance of iron ore imports
Aside from being the number one consumer of coal, China (FXI) is also the world's top consumer of iron ore. China imports almost two-thirds of the world's seaborne iron ore. In 2014, China imported 932.5 million tons of iron ore, 13.8% more than in 2013.
Dry bulk carriers carry iron ore more than any other commodity.
Article continues below advertisement
China's iron ore imports rise in June
China's iron ore imports in June came in at 74.96 million tons, 5.8% higher than the previous month and 0.5% higher than a year earlier. However, in the first six months of the year, imports have fallen by 0.9% compared to the same period last year. This signals a slowdown in China's steel industry.
Steel demand remains tepid amid a property market slowdown. The lack of any rise in the underlying demand for steel is weighing down China's demand for iron ore.
The Guggenheim Shipping ETF (SEA) represents dry bulk shippers including Navios Maritime Holdings (NM), Star Bulk Carriers (SBLK), Scorpio Bulkers (SALT), and Diana Shipping (DSX). These companies haul dry bulk materials such as iron ore, coal, and grain across the ocean. Their performance is directly correlated with commodity import data. Fewer imports have a negative impact on these companies. Navios Maritime Holdings accounts for 1.9% of SEA's assets.
The SPDR S&P Metals and Mining ETF (XME) invests in industries including steel, coal, and consumable fuels, gold, precious metals and minerals, aluminum, and diversified metals and mining.