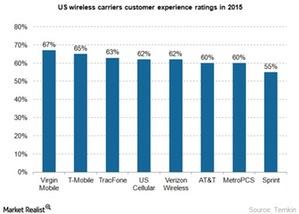 FCC Fines AT&T Regarding Unlimited Data Plan Caps
By Shirley Pelts

Updated
FCC fines AT&T fined $100 million
On June 17, The Wall Street Journal reported that the Federal Communications Commission (or FCC) fined AT&T (T) $100 million for concealing facts about the company's unlimited wireless data plans. The FCC claimed that the company sold consumers unlimited data plans, but capped the data speeds after 5 GB of data were consumed within a billing cycle.
AT&T plans to vigorously contest these allegations. AT&T currently offers unlimited data plans only for legacy subscribers who subscribed to this service in 2010.
Article continues below advertisement
Temkin Group is a research firm that surveys consumers to gain insight into their experiences with companies in a variety of industries. As shown above, 10,000 US customers placed AT&T sixth out of eight wireless carriers in terms of customer service. AT&T dropped four points from its 2014 rating, tying it with MetroPCS at 60% and remaining ahead of Sprint's (S) 55%. AT&T's data speed caps may have been a factor in the company's customer service ratings.
Why unlimited data plans are no more
Wireless carriers have stopped favoring unlimited data plans for several reasons. As smartphones became increasingly popular, users have started watching videos and streaming music on websites like YouTube, Facebook, and Pandora, resulting in a surge of data traffic. This could also cause network congestion.
The resulting requirement for network upgrades was expensive for wireless carriers like Verizon (VZ) and AT&T. Wireless carriers could not charge users for the increased usage, nor for the upgrades, because these customers had unlimited data plans.
As a result, wireless carriers either stopped offering unlimited data plans to new subscribers or began capping data speeds when a particular data limit was reached in a billing cycle. Verizon and AT&T stopped offering unlimited data plans to new subscribers, while their competitors like Sprint and T-Mobile (TMUS) continue to offer it.
You can get a diversified exposure to Verizon and AT&T by investing in the Technology Select Sector SPDR ETF (XLK), which holds 4.7% and 4.53%, respectively, in these companies.