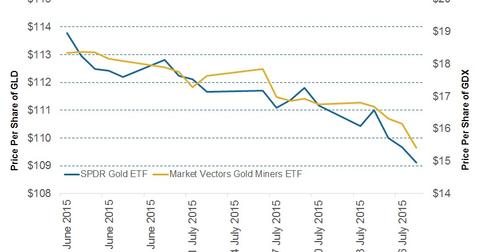 Analyzing the Performance of GLD versus GDX
By Meera Shawn

Jul. 31 2015, Updated 3:27 p.m. ET
Gold investors
The gold rout in 2013 affected many optimistic gold investors. An example is the Paulson & Co. hedge fund. It had to shed its holdings in the SPDR Gold ETF (GLD) from a whopping 31.5 million shares to 10.23 million shares. The downfall from $1,900 to now close to $1,090 per ounce also affected other investors in GLD, the iShares Gold Trust (IAU), the SPDR S&P Metals & Mining ETF (XME), the Market Vector Gold Miners ETF (GDX), and the Market Vector Junior Gold Miners ETF (GDXJ).
Article continues below advertisement
Performance of GLD, GDX, and GDXJ
Gold loses its sheen as investors face huge losses and see their favourite yellow metal falling to seriously low levels. In the last month, GLD investors lost 6.41% of their investments. Similarly, GDX investors lost 21.34% in GDX. GDXJ investors lost 18.59% on a 30-day trailing basis.
Major gold miners
GDX is equally affected by global factors like demand, interest rates, inflation rates, and global uncertainty. GDX investors seem to be on a selling spree. They have a five-day trailing loss of 0.78%, a 30-day trailing loss of 21.34%, and an unbelievable 47.22% trailing loss in the last year.
Newmont Mining (NEM) contributes ~5.26% to GDX. It was among the biggest losers on July 17. It fell about 12%.
In contrast, XME fell 0.77% on July 17, 2015. Currently, it's stabilizing. It has a 30-day trailing loss of 13.81%. This is a whopping 50.18% trailing loss. Currently, gold miners' prices are stabilizing. Gold is bouncing back to higher prices. You can track gold's performance with gold mining companies like Royal Gold (RGLD) and CONSOL Energy (CNX). They saw a one-year trailing loss of 34.55% and 58.16%, respectively.