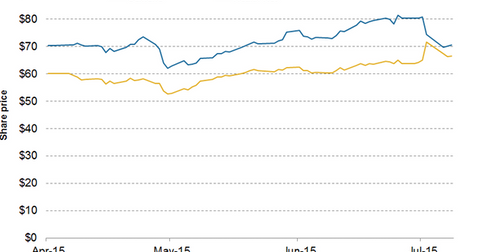 Analyzing the Market's Response to the Centene–Health Net Deal
By Margaret Patrick

Updated
Market response
The Centene–Health Net deal was announced on July 2, 2015. On July 6, the next trading day after the announcement, Centene's (CNC) shares fell to $69.80, almost 6.1% down from its closing price on the announcement day. This reaction might be indicative of the market's sentiment that Centene is paying a higher than fair price for acquiring Health Net (HNT).
The graph below shows the share price movements of Centene and Health Net after April 2015. Centene was considered to be an acquisition target in the US health insurance industry. In addition to solid earnings growth, an acquisition premium was also a driver of Centene's high share prices.
Article continues below advertisement
However, Centene's announcement to acquire Health Net led to an erosion of this premium, resulting in lower share prices for Centene. Health Net's share prices rose to $71.60 on the day of the announcement, but returned to pre-announcement levels on the next trading day. This might indicate uncertainty, as the deal is subject to approval by Centene's and Health Net's shareholders.
Health Net premium
The Centene–Health Net deal is expected to be completed by early 2016, pending approval by the shareholders of both companies. The deal has been settled at $6.8 billion, including the assumption of Health Net's debt or $78.57 per Health Net share. The consideration is a mix of $28.25 cash plus 0.622 Centene shares for every Health Net share. This valuation is at a premium of 20.8% of Health Net's share price on July 1, 2015.
Following the deal, Centene would own ~71% of the combined entity, while Health Net will own 29% of the company. The deal will be financed primarily through the issuance of senior notes amounting to $2.7 billion, and it would result in a debt-to-equity ratio for the combined entity of 40%.
Article continues below advertisement
Health Net performance
The acquisition of Health Net is expected to increase Centene's Medicaid membership from 4.1 million to 6 million. The deal will further strengthen Centene's presence in the California Medicaid market, which is the largest in the US and has 12 million Medicaid-eligible individuals. The deal would also provide Centene with access to California's dual demonstration program, which is the state-driven health insurance program for people eligible for both Medicare and Medicaid.
Plus, Centene will enter Medicaid and Medicare programs in other states such as Arizona, Washington, and Oregon. Health Net's acquisition is also expected to strengthen Centene's commercial segment by adding health insurance exchange enrollees to the company's portfolio.
Centene's profit margins
Although this deal will lead to the diversification of business and reduction of business concentration risk, it is also expected to reduce Centene's profit margins. With 83% of the total revenues earned from Medicaid, Centene has a greater exposure to this program than its peers such as Aetna (AET), Anthem, and Cigna (CI).
Unlike Medicaid, which is a fast-growing business, other segments such as duals and the commercial segment do not grow at the same rate. The deal is expected to lead to a loss of margins in exchange for the overall scale for the company. As profit margins are expected to decline, the market responded negatively to the deal announcement.
You can avoid these risks related to mergers and acquisitions by getting a diversified exposure through the iShares Dow Jones US Healthcare ETF (IYH). Centene comprises 0.29% of IYH's total holdings.