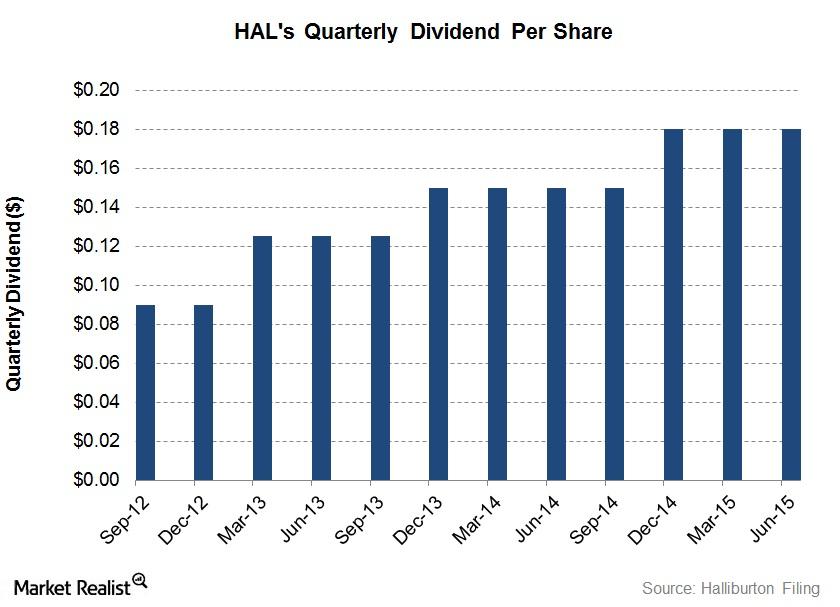 Analyzing Halliburton's Dividends, Cash Flows, and 2015 Outlook
By Alex Chamberlin

Jul. 28 2015, Updated 2:06 p.m. ET
Halliburton's steady dividend
We'll analyze Halliburton's dividends, cash flows, and 2015 outlook in this article. On July 16, Halliburton (HAL) announced a $0.18 dividend per share payment for 2Q15, unchanged from 1Q15. Halliburton has maintained a steady dividend policy despite the challenging business environment. In the past 12 quarters, Halliburton's dividends increased thrice.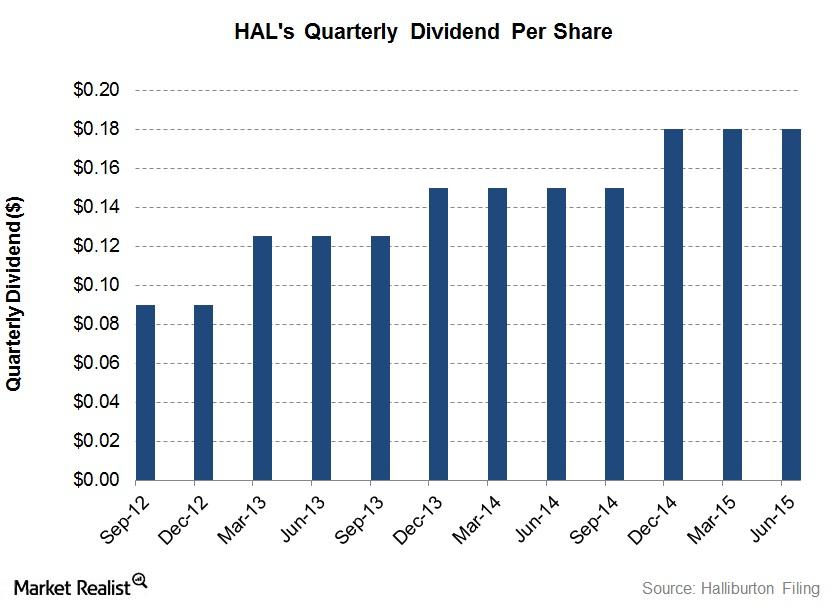 Article continues below advertisement
Halliburton's cash flow and liquidity
By the end of 2Q15, Halliburton had ~$2.7 billion in cash and equivalents. It recorded $1.99 billion in operating cash flows in June 2015, or 4% lower than in June 2014. Its current ratio[1. current asset ratio to current liability ratio] improved to 3.04 in June 2015 from the 2.56 recorded at the end of 2014.
In comparison, Baker Hughes's (BHI) operating cash flows increased by 48% in 2Q15 over 2Q14. Cameron International's (CAM) cash flows switched to -$193 million versus $213 million in the corresponding quarter last year. HAL accounts for 0.19% of the SPDR S&P 500 ETF (SPY) and 2.26% of the iShares US Energy ETF (IYE).
Halliburton's progress: Merger and asset divestiture
Halliburton recently received initial bids relating to its proposed asset divestiture. In April, Halliburton announced that it would sell its Fixed Cutter and Roller Cone Drill Bits and Directional Drilling and Logging-While-Drilling (or LWD)/Measurement-While-Drilling (or MWD) businesses. The final sale of these assets depends on Baker Hughes's merger with Halliburton. The US Department of Justice (the DOJ) is conducting its anti-trust review on HAL regarding the merger. BHI has also complied with the DOJ's second request concerning the merger. The review period has extended until at least November 25, 2015.
What's Halliburton's outlook for the rest of the year?
pricing pressure on OFS (oilfield services) companies, resulting from upstream companies' exploration and production budget cuts
a 5% expected fall in the 3Q15 average US rig count
revenues and margins in 3Q15 under pressure
Middle East and Asia region operations remaining solid
declining drilling activity in Europe, Africa, and the Commonwealth of Independent States (or CIS)