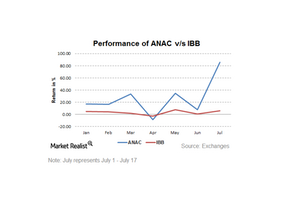 Anacor Pharmaceuticals Outperforms the Market
By Peter Neil

Jul. 30 2015, Updated 11:07 a.m. ET
Anacor Pharmaceuticals outperforms the market
Anacor Pharmaceuticals (ANAC) has a weight of 0.43% in the iShares Nasdaq Biotechnology ETF (IBB). Within IBB, stocks like Acadia Pharmaceuticals (ACAD), Receptos, (RCPT), and Celgene (CELG) performed well with good returns. However, ANAC outperformed everyone with an eye-catching 71.92% for the week ending July 17, 2015, as we mentioned previously in this series.
Anacor Pharmaceuticals is set to release its earnings on August 6, 2015, after the market close, so there might be some volatility in the days prior to and after the announcement. Anacor is focused on discovering, developing, and commercializing small-molecule therapeutics. The company's first approved drug only came in July 2014. Anacor entered into an exclusive distribution agreement with Sandoz for the drug Kerydin.
Article continues below advertisement
Anacor's pipeline includes Crisaborole Topical Ointment, 2%, used to fight psoriasis. The company has several investigational compounds that are licensed to firms such as Eli Lilly and Company (LLY) and GlaxoSmithKline. Plus, Anacor also has other proprietary compounds in early stages of research and development. These include AN3365, an investigational Gram-negative antibiotic, and certain other wholly owned investigational product candidates.
Anacor stock rose on positive news from its two phase III pivotal studies of Crisaborole Topical Ointment, which is used in the treatment of atopic dermatitis in children and adults. There could be approximately 18 to 25 million people in the United States suffering from atopic dermatitis. This could bring significant revenues to the company.
Anacor's last earnings announcement showed revenues of $15.3 million, compared to just over $4 million in the corresponding period in 2014. The company projected revenues to rise by approximately $3 million per quarter and has a top-line estimate of $124.6 for fiscal 2016. Anacor expects GAAP earnings per share (or EPS) to turn positive at $0.26 per share and diluted EPS from continuing operations on an adjusted basis to be $-0.03 in 2016.
The above chart reflects ANAC's performance against IBB on a month-over-month basis. The stock has outperformed its benchmark throughout the year so far.
Moving averages and analyst consensus
Anacor Pharmaceuticals (ANAC) stock closed the trading session on Friday, July 17, 2015, at $145.46 and has continued its ascent this week. The stock is firmly trading above its technical levels expressed as the 100-, 50-, and 20-day moving averages. The price-to-book ratio for the stock is 82.07x, which looks high against the industry average of 11.62x within IBB. However, growth prospects are high.
There are six analysts covering the stock. Four analysts have a "buy" recommendation and one analyst each has a "sell" and a "hold" recommendation. Some in the industry believe that the Crisaborole Topical Ointment could bring revenue of $2 billion in sales to the company.