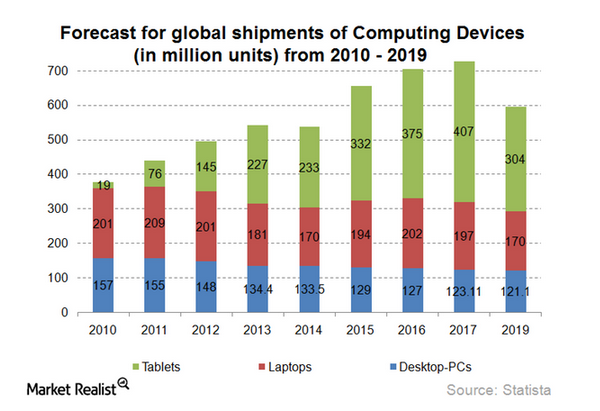 Why AMD Is Moving Away from the PC Market
Gaming is an integral part of AMD's multi-year strategy to become profitable
In the prior part of the series, we discussed that AMD (AMD) is currently reeling under the impact of weaker-than-expected consumer PC demand. As a result, AMD has shifted its focus to graphics processing units. To diversify itself, AMD has strategically shifted its focus to gaming, engaging platforms, and data centers, which are a key part of its long-term strategy. AMD provided details about this strategy at the 2015 Financial Analyst Day event on May 6, 2015.
Article continues below advertisement
AMD is reducing its reliance on the PC market
By the end of 2015, AMD projects that 50% of its revenue will come from the PC segment, which includes discrete consumer and professional graphics. In 2011, AMD earned ~75% of its revenue from the PC market. As a result of a slowdown in the PC market, AMD experienced a steep decline in its PC chip revenues. The company had a hard time sustaining its operations. AMD's embedded dense server and semi-custom businesses are expected to contribute the rest of its overall revenues.
New avenues to fuel growth
Intel (INTC) and Micron Technology (MU), AMD's peers in the semiconductor space, are taking strategic steps to expand into the mobile phones and tablets space. During the Mobile World Congress 2015, Intel announced three new Atom chipsets targeted towards budget handsets and premium tablets. Considering the weakness in the PC market, Micron has strategically apportioned less production toward PCs and more toward mobile and cloud servers, two rapidly growing segments. Sony (SNE), Nintendo, and Microsoft (MSFT) use AMD's graphic chips for their game consoles.
According to a Wall Street Journal May 2015 report, AMD ceased its SeaMicro business in April 2015. Back in 2013, AMD acquired SeaMicro, which focused on selling servers based on low-powered chips. Lisa Su, CEO of AMD, stated that because "micro-servers were not growing as fast as originally thought," management made the decision to stop SeaMicro operations.
If you are bullish about Intel, you can consider investing in the Powershares QQQ Trust (QQQ). Intel makes up about 3.41% of QQQ.