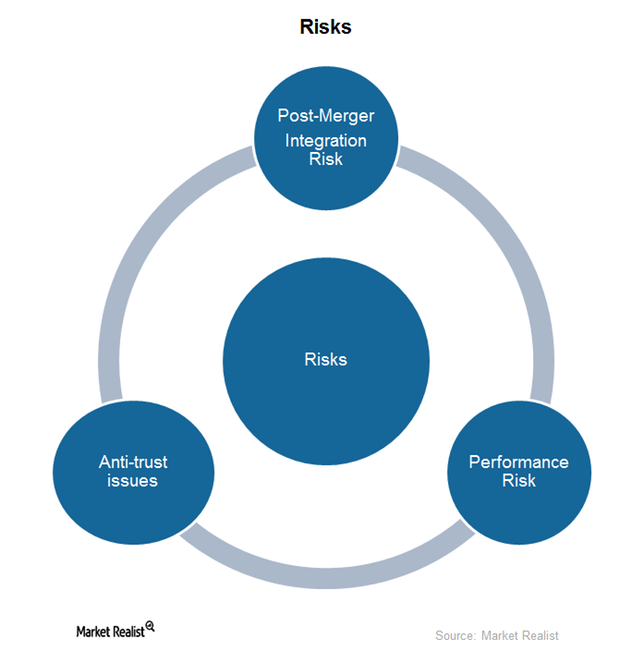 The Aetna-Humana Deal: Must-Know Risks to Consider
By Margaret Patrick

Dec. 4 2020, Updated 10:53 a.m. ET
Risks
On July 3, 2015, Aetna announced the acquisition of its peer, Humana (HUM), for a consideration of $37 billion. This valuation has made the deal the highest-priced-ever deal in the health insurance industry (XLV).
The above diagram shows the major risks surrounding the Aetna-Humana deal. These risks will also exist for future large deals in the health insurance industry, such as the deal between Centene (CNC) and Healthnet (HNT) and between Cigna and Anthem (ANTM).
Article continues below advertisement
Post-merger integration risk
The deal between Aetna and Humana faces substantial post-merger integration risk, as both these companies differ in their core business models, distribution channels, and technology platforms. These deals can involve several cultural clashes between the two companies' employees. Streamlining operations across varied technology platforms also involves substantial resources and time investment. If the deal doesn't realize synergies effectively and in a timely manner, it could lead to losses for Aetna.
Anti-trust risk
Aetna's acquisition of Humana should lead to the formation of the second-largest health insurance company by market size. The combined Aetna-Humana entity will have dominant market positions for Medicare Advantage (or MA) in states such as Kansas, West Virginia, and Missouri. If the deal appears to create a monopoly in these states, anti-trust regulators can reject the deal. In this scenario, Aetna would be liable to pay Humana $1 billion in fees. Though the fee is small compared to the $37 billion valuation, the inclusion of this clause may hint at uncertainty relating to antitrust regulators' decision. This uncertainty is further emphasized by the fact that Humana continues to trade about 17% below Aetna's offer price.
The deal, if approved, might require additional divestitures from the combined entity. These divestitures are time-bound and therefore could fetch less than their fair values. Also, they could be detrimental to the overall business strategy of the combined Aetna-Humana entity.
Performance risk
As we discussed in the previous article in this series, some market participants view the Aetna-Humana deal as overvalued. If Humana doesn't earn substantial profits and the Aetna-Humana combined entity doesn't implement cost reduction measures, this deal could prove unprofitable for Aetna.