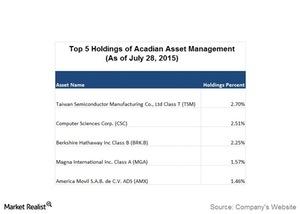 Acadian Asset Management: A Strong Performer
By Ivan Kading

Aug. 5 2015, Updated 3:47 p.m. ET
Acadian Asset Management
Acadian has a rigorous and structured investment process. The fund claims to apply traditional approaches to making investment decisions in a disciplined and systematic way by using a quantitative-based model. The fund utilizes the same tools many traditional portfolio managers use, but attempts to apply them in a very systematic and disciplined way, avoiding emotion and slippages in implementation.
Article continues below advertisement
A globally present firm
Acadian specializes in active global and international equity strategies, employing sophisticated analytical models for active stock selection as well as peer group (country, region, and industry) valuation. Their proprietary database covers over 40,000 securities in more than 60 markets worldwide. Acadian's extensive research capabilities are used to develop customized investment management strategies for clients and help them beat the market S&P 500 returns (SPY).
Acadian currently manages a portfolio over $21.67 billion with a focus on the information technology, healthcare, and finance sectors. TSM, CSC, BRK-B, MGA, and AMX represent approximately 10% of the fund's total portfolio.
Different types of managers
Unlike a standard hedge fund manager whose job includes the combination of both front-end and back-end operations, a quantitative hedge fund manager's role is limited to the back-end side. In other words, regular hedge fund managers perform trade based on their expertise and knowledge. On the other hand, a quantitative hedge fund manager designs proprietary trading algorithms that focus on profit maximization, reducing transaction costs, and real-time risk monitoring. The quantitative hedge fund manager's job is then reduced to monitoring the process and providing input on how to optimize the already existing model.