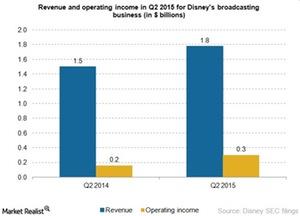 The ABCs of Disney's ABC Television Network
By Shirley Pelts

Jul. 29 2015, Updated 3:06 p.m. ET
ABC Television Network
The ABC Television Network is a domestic broadcast television network of The Walt Disney Company's (DIS) Media Networks segment. The network is a key growth driver for this segment.
The ABC Television Network generates a majority of its revenues from the sale of time slots to advertisers. ABC produces its own programs and also acquires programming rights from third parties. It also sells and distributes its television programs to third parties such as Netflix (NFLX).
Article continues below advertisement
Broadcasting business in 2Q15
Disney's ABC Television Network had revenues of $1.8 billion in 2Q15, a 19% rise over its revenues in the same quarter last year. The broadcasting business had an operating income of $302 million, a whopping 90% rise over its operating income for 1Q14. This rise in operating income was driven by an increase in affiliate and advertising revenue and higher program sales to third parties.
Program sales were driven by the sale of Marvel's Daredevil produced by ABC Studios for Netflix and higher sales of ABC's other shows such as Lost and Once Upon a Time. ABC's advertising revenue was up in the second quarter due to higher prime time ratings and higher rates.
Advertising rates charged by networks like ABC and 21st Century Fox's (FOXA) Fox television network depend on the quality and quantity of their programming content.
ABC's growth strategy
A majority of Disney's original, live-action television programming is produced under the ABC Studios label. ABC Studios is creating 85% of its own fall schedule programs. This should increase Disney's advertising revenue and also allow Disney to sell its content to third parties like Amazon's (AMZN) Prime Instant Video and Netflix. You can get a diversified exposure to Amazon by investing in the iShares S&P 500 Index ETF (IVV), which holds 0.95% of the stock.
Going forward, ABC is going to scale back on its sports programming and concentrate more on creating content for third parties. This could leverage its vast intellectual property universe, including Marvel.