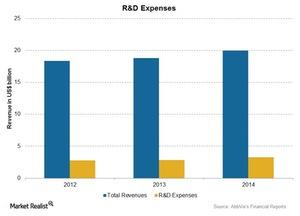 AbbVie's Research and Development Center
By Mike Benson

Updated
Research and development
Research and development, or R&D, is the most crucial part of the business for pharmaceutical companies involved in the innovative drug sector. R&D expenses relate to the process of discovering, testing, and developing new products and improving the existing range of products. Such expenses are also incurred to ensure product efficacy and regulatory compliance prior to launch.
AbbVie (ABBV) spent ~$3.3 billion on R&D in 2014, $2.9 billion in 2013, and $2.8 billion in 2012. R&D expenses represented 16.5% of net sales in 2014, 15.2% of net sales in 2013, and 15.1% of net sales in 2012.
Article continues below advertisement
Patent expiry
The patent for lipid drug TriCor expired in November 2012. The patent for Trilipix expired in July 2013, and that for Niaspan, in September 2013. These expirations immediately attracted generic players and had a major impact on the company's revenues. Sales of dyslipidemia products declined from $2.1 billion in 2012, to $1.1 billion in 2013, and to $328 million in 2014.
The US patent for adalimumab, a key compound in the Humira drug, is set to expire in December 2016. Its European patent will expire in April 2018. This drug is AbbVie's key product, contributing over 63% of the company's revenues. AbbVie is conducting R&D to look for other indications for Humira in order to protect the patents for a longer time. If it fails in this, the company may suffer huge revenue loss. Not only that, but the patents for lopinavir are also set to expire in 2016.
R&D pipeline
The following drugs or compounds are either in Phase III clinical trials or submitted for the registration process:
Humira (adalimumab) for additional use in treatment of pediatric Crohn's disease under immunology
atrasentan for diabetic nephropathy under kidney diseases
HCV interferon-free combination for hepatitis C
daclizumab for sclerosis and Duopa/Duodopa for advanced Parkinson's disease under neuroscience
elotuzumab for myeloma, veliparib for breast and non-small cell lung cancer, and ABT-199 for leukemia under oncology
elagolix for endometriosis under women's health
The large pharmaceutical companies including Eli Lilly (LLY), Pfizer (PFE), Merck (MRK), and AstraZeneca (AZN) also spend heavily to develop patented drugs.
The Health Care Select Sector SPDR Fund (XLV) is focused on the pharmaceutical segment.