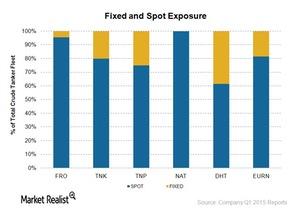 100% of Nordic American's Vessels Are in the Spot Market
By Sue Goodridge

Updated
Difference between spot charter and time charter
In the crude tanker business, there are two markets, the spot market and the time charter market. Spot contracts are for short duration, or a voyage from one port to another. In this type of contract, the shipping companies charge a spot rate to their customers to transport crude oil. These spot rates include the bunker fuel cost, which depends on crude oil (DBO) prices. Under time charter contracts, vessels are hired for a specific period that can last up to five to six years at a pre-decided daily rate, or rates can be pegged to the spot rates or an index.
Article continues below advertisement
Companies have high exposure in spot market
We have calculated the spot and fixed exposure for each crude tanker company based on the existing fleet count. Nordic American Tanker (NAT) operates 100% of its fleet in the spot market. Frontline (FRO), Teekay Tankers (TNK), Tsakos Energy Navigation (TNP), and Euronav have 95%, 82%, 75%, and 86% exposure in the spot market, respectively. DHT has the lowest spot market exposure with only 62% of its fleet operating in the spot market, while the remaining 39% are on time charter contracts.
Time charter length
After the time charter contract is rolled out, the company can either operate the vessel on a voyage basis that is in the spot market or enter into a new time charter contract. Teekay Tankers (TNK) operates eight vessels on time charter, out of which four will roll out in 2015 and three will roll out in 2016. The company also has a long-term contract until 2018.
Euronav (EURN) has nine time charter contracts, out of which four are long-term contracts until 2018. Euronav's other contracts will roll out as follows: two in 2015, one in 2016, and two in 2017. DHT Holdings (DHT) and Tsakos Energy Navigation (TNP) have an average time charter length of 6.5 and 2.3 years, respectively.
Impact on companies
Companies change exposure between spot charter and time charter depending on the company's strategy and expected shipping rates. More vessels are employed on spot charters when shipping rates are expected to rise. On the other hand, companies use long-term time charter contracts when rates are expected to decline.
Companies with high exposure to the spot market will benefit when rates rise. However, a larger exposure to the spot market means higher risk, as spot rates can be volatile and revenue visibility is lower. If the industry outlook turns south, these companies will be more negatively affected. Time charter contracts have very predictable cash flows as compared to spot markets.
All of the companies above have provided a positive outlook for tanker spot rates in 2015. If the positive outlook becomes a reality, companies having higher exposure to the spot market will benefit more.