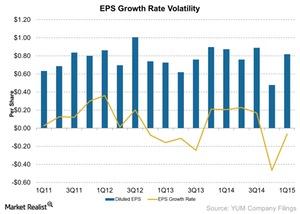 Yum! Brands' Investors: Risks to Watch Closely
By Adam Jones

Updated
Risks
Previously, we saw Yum! Brands (YUM) valuation compared to its peers and the S&P 500 Index. There are certain risks that investors need to keep in mind when considering their investments in Yum! Brands. In this series, we'll talk about some of those risks.
Article continues below advertisement
China risk
Yum! Brands' sales growth rate was significantly impacted because of the supplier scandal issues in the China market. After the 2012 incident, it took Yum! Brands five quarters to recover back into positive comps territory. The 2014 issue is in its third quarter cycle with comps inflecting towards positive territory.
There isn't a way to know when an incident like this will strike again. However, any reoccurrence of an incident will lead to a sell-off. This is because customers in China would avoid eating at Yum! Brands' KFC (Kentucky Fried Chicken) restaurants. This would drive down the sales. This can overshadow the company for as many as five quarters, as we saw earlier. This would affect the long-term growth expectations that investors have from Yum! Brands.
Spin-off risk
Previously, we discussed that there are expectations of a spin-off for the China division. This would certainly benefit the share price. However, if the spin-off doesn't happen, it would disappoint investors.
Investing in an ETF like the Consumer Discretionary Select Sector SPDR Fund (XLY) can help mitigate such risks. XLY holds 4% of McDonald's (MCD), 3% of Starbucks (SBUX), 1.5% of Yum! Brands, and 1% of Chipotle (CMG).
Other segments
KFC contributes 34% of the operating profits. It has delivered comps sales growth of 5% in the most recent quarter and the highest over the past eight quarters. Taco Bell contributes about 23% of the operating profits. It has also delivered solid same-store sales growth of 6% in the most recent quarter. This was higher compared to its historical average—eight quarters—of 3.4%. Pizza Hut only contributes about 16% of Yum! Brands' operating profits. Pizza Hut's comps have been struggling over the past year. It has been negative. In the most recent quarter, the comps grew 0%. This shows signs of a turnaround.
Together, these three segments have also raised investors' expectations. If the company doesn't deliver to these expectations, Yum! Brands' stocks will be negatively impacted. It's a risk that investors need to watch closely.