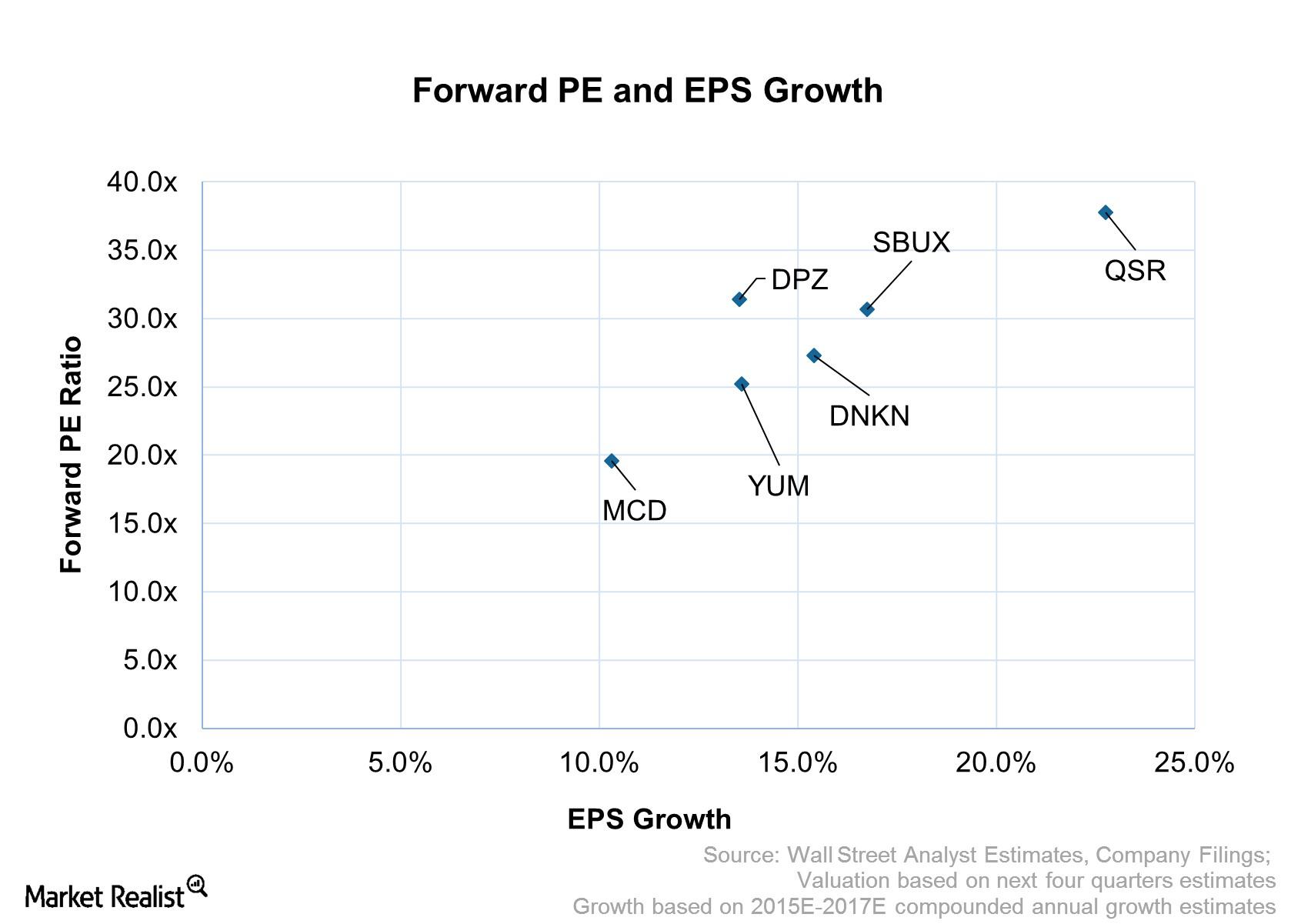 Where Will Yum! Brands Trade in the Next Few Quarters?
By Adam Jones

Dec. 4 2020, Updated 10:52 a.m. ET
Where will Yum! Brands trade?
We discussed that Yum! Brands (YUM) is currently trading at a high PE (price-to-earnings) ratio. Does this mean that the company is expensive? To answer this, when you look at a valuation multiple like the PE ratio, you also need to compare its peers. This will help you identify if Yum! Brands is undervalued or overvalued on a relative perspective.
In the above chart, you can see that Yum! Brands has a forward PE ratio of 25x. It's almost on the trend line. This indicates that the stock is valued fairly. The same holds true for Starbucks (SBUX) and McDonald's (MCD). We used the PE ratio for this comparison because Yum! Brands is a stable company with a long history of EPS (earnings per share) growth. Starbucks and McDonald's form about 7% of the Consumer Discretionary Select Sector SPDR ETF's (XLY) portfolio. XLY also holds 1% of Chipotle (CMG).
Article continues below advertisement
Earnings estimate
Wall Street analysts are estimating a next 12 month EPS of $3.60. This is a somewhat optimistic estimate. It suggests an EPS growth of ~20%—compared to an historical average of 12% in the past five years. This growth estimate takes into account China's recovery with the comps sales. The company's comps have started to climb up. If it comes in higher than management's guidance, it will benefit the stocks.
Management has said that it expects 1H15 comps to come in negative. It will get "stronger" in 2H15. We'll cover the earnings. So, come back to our website after Yum! Brands' earnings.
Conclusion
Compared to the S&P 500 Index, Yum! Brands is trading at 1.4x—close to its historic average of 1.3x. If you look at the above chart, Yum! Brands has dropped from the peak of 2012, but it started to climb up in recent months. The S&P Index has a forward earnings growth rate of about 9%. This is close to the historic average—five years—of 8.4%. Yum! Brands has a forward earnings growth rate of 20%. This is above the historic average of 12%. However, we think that it's because of China's expected recovery.
When we compare Yum! Brands with its peers and with the S&P 500 Index, the company appears to be priced fairly. There's also a possibility for Yum! Brands to spin off its China division. This will bump the share price upwards. However, there are some risks investors should watch for. We'll discuss this in the next part of the series.