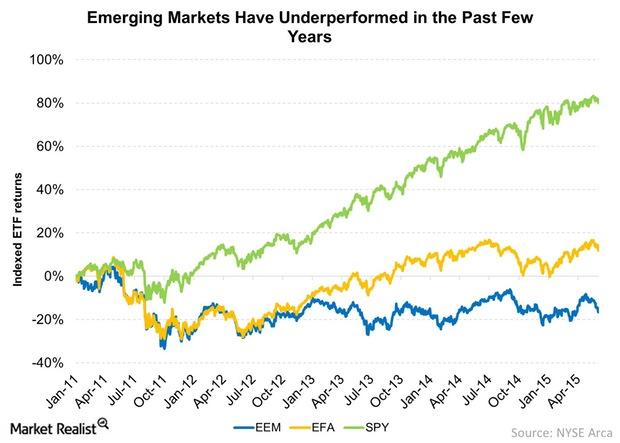 Will Emerging Market Underperformance Persist?
There's a strong case for having at least some exposure to emerging markets. However, many investors continue to underinvest in this area, partly due to behavioral biases. Nelli Oster explains.
There's a strong case for having at least a benchmark exposure to emerging market (or EM) investments, as my colleague Heidi Richardson recently pointed out.
However, despite EM stocks' attractive valuations and the numerous other reasons to like select EM equities and bonds, many investors continue to underweight the emerging world in their portfolios. To be sure, investor concerns over rising rates and global growth are partly to blame and have been contributing to EM fund outflows lately.
Article continues below advertisement
Market Realist: The emerging market underperformance has been a theme over the past few years.
The graph above compares the returns on the iShares MSCI Emerging Market ETF (EEM), the iShares MSCI EAFE ETF (EFA)–which track stocks from developed markets other than the US and Canada–and the SPDR S&P 500 ETF Trust (SPY), since 2011.
SPY has had a secular bull run in that period, giving returns of 80%. EFA has returned a meager 11.8%, most of which has come in 2015. Emerging markets, meanwhile, have eroded investor wealth by -16.6% in the same period.
While American stocks (IVV) have been supported by easy monetary policies, emerging market stocks have suffered due to slowing growth.
Now that American stocks are losing steam and facing a number of headwinds–including high valuations and tepid earnings growth–investors are beginning to turn their attention toward international stocks (ACWI).
Europe and Japan (EWJ) are currently in the midst of QE (quantitative easing) programs, with the ECB (European Central Bank) and the BoJ (Bank of Japan) pumping money into their respective economies. This has supported equities in those economies.
Read on to find out why some emerging markets could perform well over the next few years.