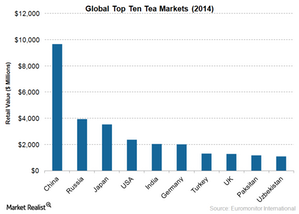 The US Is the Fourth Largest Tea Market in the World
US tea retail value
A presentation at the May 2015 World Tea Expo by Howard Telford, Euromonitor International's senior beverages analyst, stated that the US is the fourth largest tea market in the world based on retail value. Though the US isn't even among the top ten tea-consuming countries in terms of retail volume according to Euromonitor, it enjoys the fourth position based on the sector's retail value of $2.4 billion in 2014.
The top three tea markets in terms of retail value in 2014 were China, Russia, and Japan with market values of $9.7 billion, $4.0 billion, and $3.5 billion, respectively.
Article continues below advertisement
The second largest tea importer
According to the Tea Association of the USA (or USTA), the US has emerged as the second largest importer of tea in the world, after Russia. In 2014, the country imported 285 million pounds of tea, representing an estimated retail value of $10.8 billion.
The growing popularity of tea
USTA claims that about four out of five consumers drink tea in the US. One of the prime reasons for tea's growing popularity in the US is its perceived health benefits compared to soda. Many consumers believe that tea varieties like black tea and green tea increase metabolism and may prevent cardiovascular disease. The World Tea Expo included some interesting presentations that discussed the health benefits of tea, including:
US tea sales are also growing due to the innovative products and flavors that the industry has brought to the table. The convenience and options across the ready-to-drink tea category have also attracted consumers. Coca-Cola (KO), PepsiCo (PEP), and Dr Pepper Snapple (DPS) have introduced several flavors under their popular tea brands. Starbucks (SBUX) has also gained traction in the tea market through its Teavana brand.
The SPDR S&P 500 ETF (SPY) invests over 9.4% of its portfolio holdings in consumer staples, which includes beverage companies.