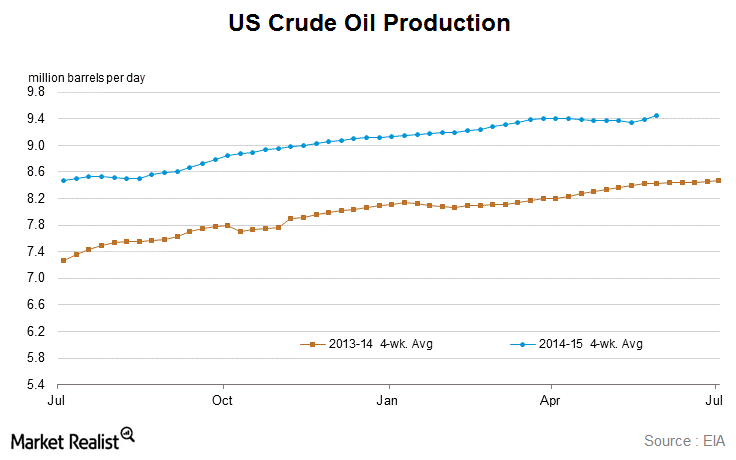 US Crude Oil Production Increases Again: WTI Is in Trouble
Crude oil production
The EIA (U.S. Energy Information Administration) estimates that crude oil production increased by 20,000 bpd (barrels per day) to 9.58 MMbpd (million barrels per day) in the week ending May 29. The increase followed a triple-digit increase in production the week before. Last week's production levels were 14% higher than the levels of 8.38 MMbpd last year.
Last week, the four-week average production of 9.447 MMbpd was 12% higher than 8.429 MMBpd for the same period last year. Also, the four-week average increased ~0.6% week-over-week. This shows the resilience of US crude oil production.
Article continues below advertisement
Crude oil imports
Crude oil imports increased by 677,000 bpd to average 7.37 MMbpd last week. Now, they're 3.5% higher than the levels last year. An increase in imports adds to crude oil inventories. It's also bearish for WTI crude oil prices.
Supply forecasts for 2015 and 2016
According to the EIA's May STEO (Short-Term Energy Outlook) released on May 12, US crude oil production is expected to decline from June through September. Then, growth is expected to resume. According to the EIA, crude oil production will average 9.2 MMbpd in both 2015 and 2016.
It also expects the share of total US liquid fuels consumption met by net imports to decline to 21% in 2016—the lowest level since 1969. Net imports' share declined to an estimated 26% in 2014—compared to 60% in 2005. EIA forecasts average net imports of 6.69 MMbpd in 2015.
The next STEO is expected to come out on June 9.
In the next part of this series, we'll take a look at demand trends for last week.