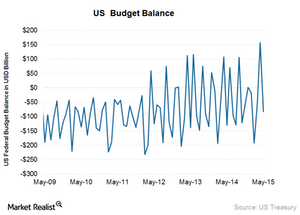 US Budget Deficit Falls in May: Impact on Gold Not Immediate
By Anuradha Garg

Updated
Budget balance basics
A budget balance is the difference between what a country's government spends and what it takes in from taxes and other sources. A budget deficit occurs when spending exceeds earnings.
The US budget deficit totaled $82.4 billion in May 2015. In April, there was a budget surplus of $156.7 billion. A year ago, the budget deficit was $130 billion. The year-over-year decline in May is mostly due to a calendar adjustment.
The budget deficit for fiscal year ended September 2014 was $483.3 billion, or 2.8% of the GDP (gross domestic product). A fiscal year for the U.S. Treasury begins in October and runs through September of the following year.
Article continues below advertisement
In fiscal 2015, the Congressional Budget Office expects the deficit to fall to 2.7% of the GDP, or $486 billion, according to a release in March 2015. This projection is higher than the $468 billion estimated in January 2015. So far this fiscal year, the budget deficit is ~$365.1 billion, 16.3% less than it was in the same period a year ago.
Budget deficit impacts US debt
Deficits continue to accumulate, adding to the US federal debt. In this case, a higher percentage of the country's income is used for interest payments on the debt, which is negative for the US dollar and longer-term prospects of the economy. So an increase in the budget deficit over a period of time signals worsening government finances, which isn't good for the economy.
This analysis suggests that on a year-over-year basis, the budget deficit is declining, which is negative for gold-backed ETFs such as the SPDR Gold Trust ETF (GLD). The declining deficit is also negative for stocks such as Goldcorp (GG), Royal Gold (RGLD), AngloGold Ashanti (AU), and Kinross Gold (KGC). It also hurts ETFs that invest in these stocks, such as the VanEck Vectors Gold Miners ETF (GDX). These companies form 19.8% of GDX's holdings.
The relationship between debt and gold usually applies for the long term, so debt levels may not have any immediate impact on gold prices. There are more significant short-term factors that are likely to influence gold.