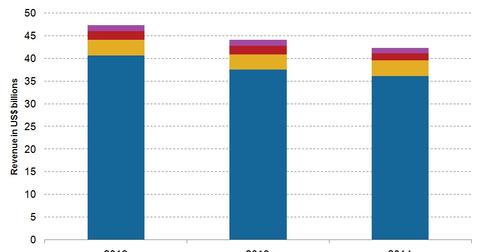 Understanding Merck's Revenue Stream
By Mike Benson

Updated
Revenue breakup
Merck and Co.'s (MRK) net revenues have declined year-over-year over the past three years. The company's total revenues declined by over 4% in 2014 at $42.2 billion, compared with $44.0 billion in 2013.
Article continues below advertisement
Segment contribution
The contribution of Merck's Pharmaceuticals segment is over 85% of the company's total revenues in 2014. The contribution of the Animal Health segment is more than 8%, and the contribution of the Consumer Care segment was ~3.5% in 2014. The Consumer Care segment was divested on October 1, 2014.
Other revenues such as alliance revenue, miscellaneous corporate revenues, and third-party manufacturing sales comprised nearly 3% of the company's total revenues in 2014. The company divested a substantial part of its third-party manufacturing sales in October 2013.
Regional revenues
Merck's 2014 sales in the US totaled $17.1 billion, a decline of 6% compared with its 2013 revenues. The primary reasons for the declining revenues in US markets for 2014 were:
termination of the company's relationship with AstraZeneca LP
divestiture of Merck's Consumer Care (or MCC) division
declining sales of a few pharmaceutical products
Total international sales represented 60% of Merck's total sales in 2014, compared with 59% in 2013. The company's sales outside the US were $25.2 billion, a decline of 2% as compared with 2013. This decline was mainly due to the following factors:
An unfavorable foreign exchange impacted the company's sales performance by 2% in 2014. Its sales in Japan dipped by 14% in 2014, and 8% was due to unfavorable foreign exchange. Similarly, its sales in emerging markets remained nearly constant for 2014 due to a 5% unfavorable effect of foreign exchange.
Merck divested its Consumer Care division.
The company experienced declining sales of pharmaceuticals in Japan, Europe, and Canada. In Japan's market, the revenues dipped due to the biennial price reductions and repricing in 2014 by that country's government.
Other Big Pharma companies including Johnson & Johnson (JNJ), Bristol-Myers Squibb (BMY), GlaxoSmithKline (GSK), and Novartis AG (NVS). Merck (MRK) forms about 6.4% of the total assets of the SPDR Health Care Select Sector SPDR ETF (XLV).