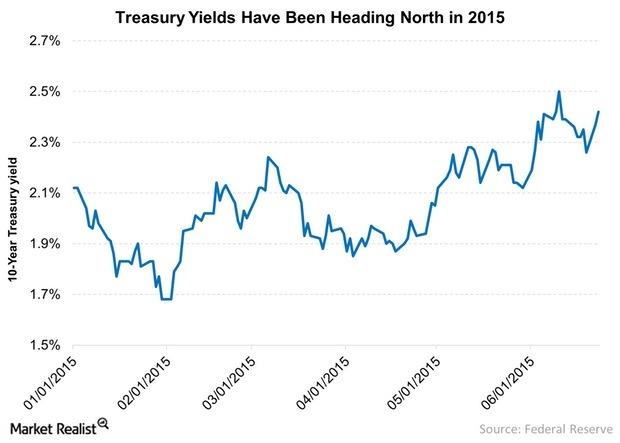 Why Have Treasury Yields Risen?
With fears over the Fed calmed, bonds rallied. Both long and short-term rates retreated, sending the yield on the 10-year Treasury roughly 20 basis points (0.2 percent) below its June 10, 2015 peak. The moderation in rates allowed for a rebound in stocks, a trend supported by increasing flows into equity funds.
Article continues below advertisement
Market Realist – Why have Treasury yields risen?
The US Treasury (TLT)(GOVT) yields have been driven mainly by the Greek debt fiasco and central bank actions. Yields started falling early this year due to the deadlock between Greece and its creditors. The announcement of the European version of QE (quantitative easing) led to lower yields on European bonds. This led to lower yields on the US Treasuries because the latter seemed more attractive to the Europeans. The yield on the ten-year bonds (IEF) fell from 2.1% at the beginning of the year to 1.7% on January 30.
Improving economic data in the US led to higher yields. It increased the chances of an early rate hike. However, yields spiked after mid-April after the rise in inflation expectations in Europe (EZU). On June 10, ten-year yields stood at 2.5%. Currently, the ten-year Treasury yield stands at 2.4%. The slight fall in rates led to modest gains for equities (VOO) last week.
Higher interest rates could cause higher stock market volatility. Rising rates, combined with higher equity valuations, have historically meant lower returns in the 12-month period after the rate hike. However, interest rates will be rising from very low levels. This makes it a very unique situation.
The movement in Treasury yields from ~1.7% in January to its current level of 2.4% has restored some value in Treasuries. Continue reading to find out how central bank actions in other developed economies have affected their markets.