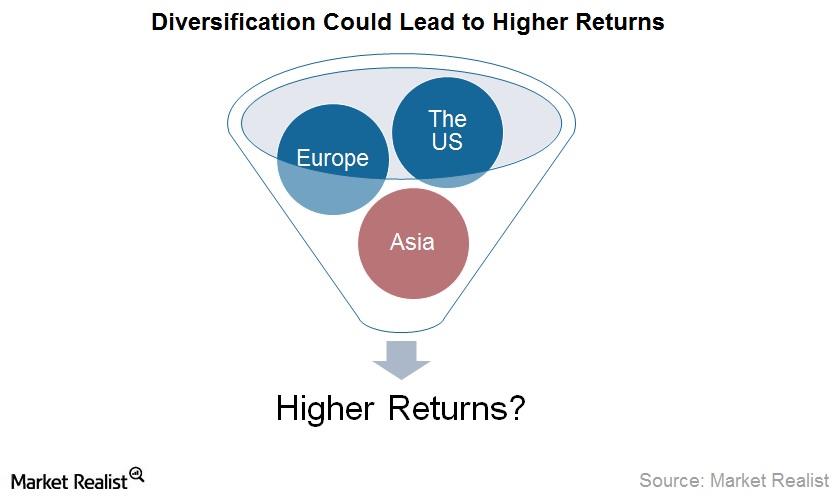 Are You Thinking about Diversifying Your Portfolio?
By David Ashworth

Nov. 20 2020, Updated 4:27 p.m. ET
What is diversification?
In a nutshell, diversification means not putting all of your eggs in one basket.
The US has a vast financial market with all sorts of investment products available. From simple ones like stocks and US Treasuries to more esoteric ones like CDS (credit default swaps), the US market has products for all investors.
It may seem like you don't need to venture outside the US for your investment portfolio given the diversity of products in the US. But diversification is not restricted to the type and the complexity of financial products. On a macro level, diversification also refers to the geographical diversification of your investment portfolio.
Article continues below advertisement
Why geographical diversification?
Geographical diversification is important, because despite the variety of products available in a financial market, the macroeconomic developments impacting them are the same. They are pertinent to a certain geography. To read more on the subject, you can refer to our article on Why International Diversification Matters Today.
But basically, geographical diversification allows your portfolio to keep earning returns in case your primary geography has not been doing well. Also, even in a generally rising scenario in the home market instruments, you can diversify a fraction of your portfolio to geographies that may get you that extra return.
When diversifying geographically, you can look at regional diversification or country-specific diversification.
Asia-Pacific
Generally speaking, ETFs like the iShares MSCI ACWI ETF (ACWI) and the Vanguard FTSE All-World ex-US ETF (VEU) help you to invest globally by investing in stocks like Toyota Motor (TM), Novartis AG (NVS), and ExxonMobil (XOM).
But in this series, we won't go into investments in Europe, as several investors may already have exposure to the region. Instead, we'll look specifically at developed and emerging nations in the Asia-Pacific region that you can turn to in order to diversify your portfolio. Our focus will be on equity ETFs and ADRs (American Depository Receipts) that are listed in the US and invest in these countries.
We'll begin with an overview of the region.