Leverage ratio of 3.5x
Targa Resources' (NGLS) leverage ratio for the first quarter of 2015 was 3.5x. The company targets a leverage ratio in the range of 3x–4x. The leverage is calculated as a ratio of debt to EBITDA (earnings before interest, tax, depreciation, and amortization). Higher leverage indicates greater risk.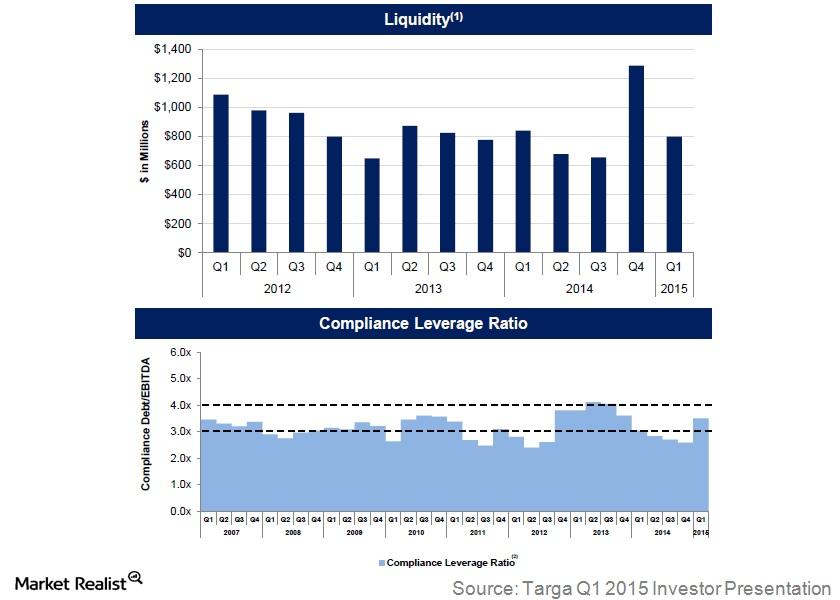 The above graphs show NGLS' quarterly liquidity and compliance leverage ratios. The company's leverage ratio in the first quarter increased to support the Atlas merger. The EBITDA used to calculate the compliance leverage ratio is adjusted for material capital projects and certain other items.
Article continues below advertisement
Liquidity position
NGLS had ~$800 million of liquidity at the end of the first quarter of 2015. The partnership had a credit facility commitment of $1.6 billion at the end of 1Q15. Of this, it had funded borrowings of $840 million and letters of credit worth $25 million, leaving a total revolver availability of $735 million. The company had $63 million in cash at the end of 1Q15.
Year-to-date through April 2015, Targa received $200 million from equity issuances. This included $153 million of equity issuances under the ATM (at-the-market) program, as well as contributions from Targa Resources Corp. (TRGP). ATM is a follow-on stock offering used by companies to generate cash on an as-needed basis.
Announced capital projects
NGLS currently has $1.1 billion–$1.7 billion of capital projects in process. These include both downstream and gathering and processing projects. Out of this, the company expects to spend $700 million–$900 million of capital in growth projects in 2015.