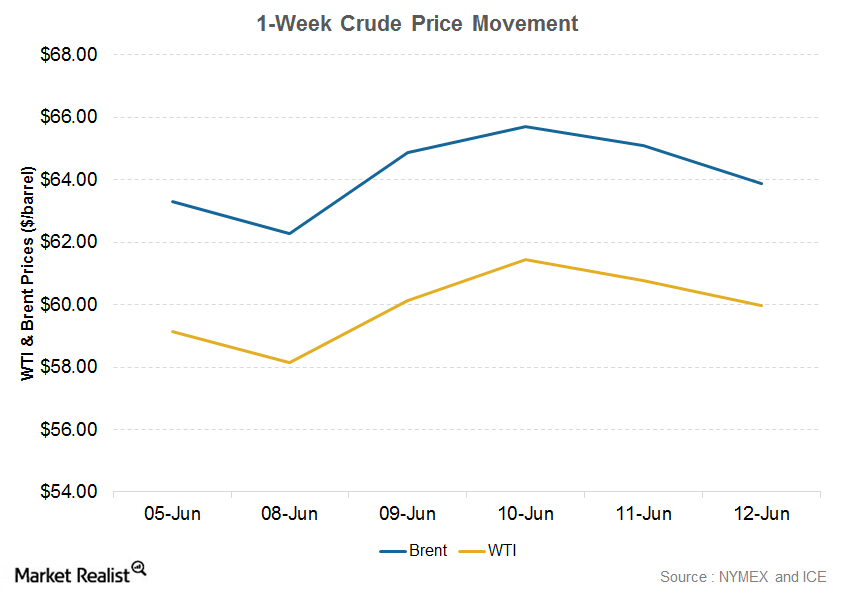 Supply Concerns Dampen Last Week's Rally in Crude Oil Prices
Crude oil prices
Brent and WTI (West Texas Intermediate) crude oil prices closed at $63.87 per barrel and $59.96 per barrel, respectively, on Friday, June 12. WTI was up by 1.4% on a weekly basis, and Brent rose by 0.88%.
When prices increase, it's positive for the margins of energy companies including ConocoPhillips (COP), Chevron (CVX), Occidental Petroleum (OXY), and Apache (APA). Combined, these companies make up 21% of the iShares U.S. Energy ETF (IYE).
Article continues below advertisement
Weekly recap
WTI crude oil prices fell by 1.67% on Monday, June 8, from Friday, June 5, to settle at $58.14 per barrel. Brent prices fell by 1.61% to settle at $62.29 per barrel.
Prices slid on data indicating lower Chinese demand, even as US production remained steady. China's General Administration of Customs revealed that oil imports declined to their lowest levels in 15 months. China is the world's second-largest oil consumer. So, weaker demand is bearish for prices.
Prices turned around on Tuesday. WTI crude oil rose by 3.4%, and Brent crude oil climbed by 4%, boosted by a weaker dollar. This makes dollar-priced commodities like crude oil attractive to foreign investors. Speculation that US crude oil supplies will decline for the sixth straight week also helped.
WTI crude oil settled at $60.14 per barrel, and Brent crude oil settled at $64.88 per barrel on Tuesday.
On Wednesday, crude oil prices rose even higher after the EIA (U.S. Energy Information Administration) reported a greater-than-expected decline in inventories and an increase in weekly refinery inputs.
WTI crude oil increased by 2% to settle at $61.43 per barrel, and Brent crude oil increased by ~1.3% to settle at $65.70 per barrel on Wednesday. For more about last week's crude inventory report, read Bullish Inventory, Bearish Production: What's Up with Crude Oil?
The rally lost steam after the IEA (International Energy Agency) raised forecasts for non-OPEC (Organization of Petroleum Exporting Countries) production by 200,000 barrels per day. According to the EIA, non-OPEC production will increase by 1 MMbpd (million barrels per day) to average 58 MMbpd this year. The report also suggested that OPEC's largest members continue to pump crude oil at record rates.
WTI and Brent crude oil each lost ~1% to close at $60.77 per barrel and $65.11 per barrel, respectively, on Thursday.
Prices continued to fall on Friday on supply concerns. WTI crude oil couldn't stay above $60, and it ended the week at $59.96, having lost 1.3%. Brent crude oil fell by ~2% to close at $63.87 on Friday.