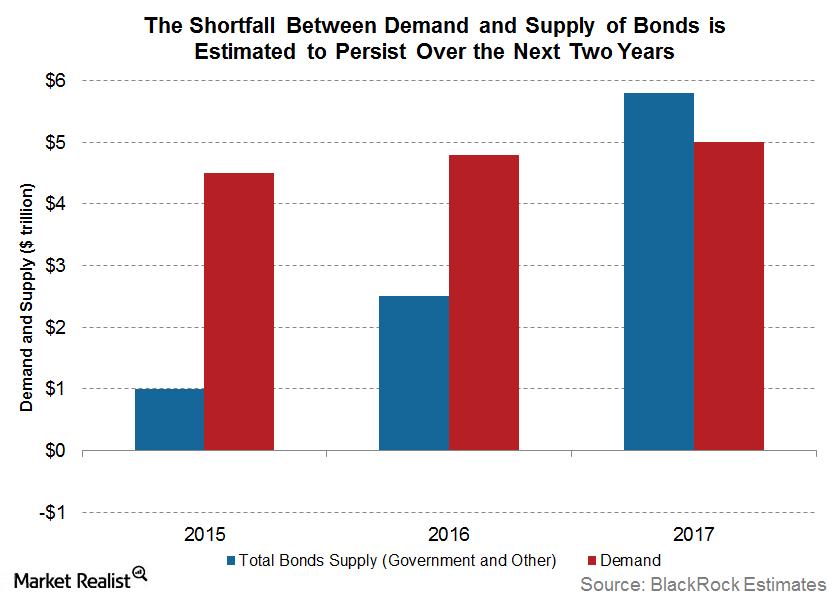 Structural Considerations Could Mean Lower Yields in the Future
By Russ Koesterich, CFA

Nov. 20 2020, Updated 5:08 p.m. ET
Given these forces, along with more structural considerations––aging populations, institutional demand for bonds and a dearth of supply––I expect that long-term yields will remain low even as the Federal Reserve (or Fed) starts to raise rates. Short-term rates should rise, but long-term yields are likely to be more anchored over the next one to two years.
This leaves investors with the same challenge they've faced for the past five years: how to source yield in a low-yield environment. High yield bonds (HYG), which have outperformed the broader bond market year-to-date, could be a good option within fixed income.
Market Realist – Apart from the reasons mentioned in the previous part of this series, many structural considerations are also likely to keep yields low in the future. Demand for Treasuries and bonds is likely to be more than the supply in the next two years.
The above graph shows BlackRock's estimates of total government bond supply and demand in 2015, 2016, and 2017. BlackRock expects demand to exceed supply of bonds by $3.5 trillion in 2015 and $2.3 trillion in 2016. A supply deficit means a rise in prices and correspondingly lower yields.
Article continues below advertisement
Population demographics could also put pressure on bond yields in the future. The US Department of Commerce estimates that the US population above 65 years will almost double, from 43.1 million in 2012 to 83.7 million in 2050. The aging population is a serious concern for the US economy. The above graph shows how the percentage of the elderly population in the workforce is likely to increase significantly going forward.
An aging workforce could mean lower productivity levels, which is likely to hamper economic growth. An older population would also lead to a shift in investment habits. Older people are generally risk-averse and hence tend to avoid risky asset classes like equities (SPY) (VTI).
The earnings multiples of the US equity markets (IVV) (VOO) are thus likely to see a downward trend in the long term. On the other hand, bond yields are likely to face downward pressure as the older population climbs into safe havens like Treasuries, corporate bonds (LQD), and precious metals like gold and silver.
Read on to the next part of this series to understand where investors can find income in this low-yield environment.