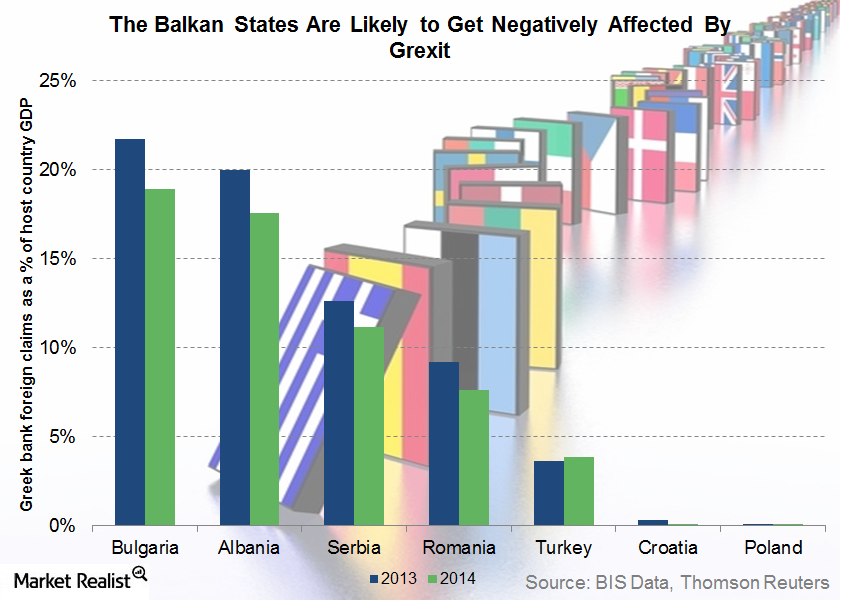 Should Investors Be Concerned about a Grexit?
By Heidi Richardson

Aug. 18 2020, Updated 6:32 a.m. ET
Q: Should investors be concerned about a Grexit?
A:  It's hard to argue that the risk of a Greek exit ("Grexit") from the European Union hasn't increased. You have a new cash-strapped government that has made a number of commitments to the Greek people that in some ways are antithetical to its commitments to the creditors. And unless the Greek government is willing to back down on some of its election promises, there's going to be a slow motion crash with the creditors. At the time of writing, the Greek government and its creditors were trying to hammer out a "cash-for-reform" deal, amid this month's deadlines for Greece to repay International Monetary Fund loans.
However, a Grexit is not our base case scenario. Similarly, though we could see a 2017 referendum on a "Brexit" after the recent U.K. election, we also expect the U.K. to stay in the eurozone for the foreseeable future.
Article continues below advertisement
Market Realist:
The possibility of a Grexit has risen sharply now that the breakdown in talks has led the Greek government to announce a referendum. On July 5, the Greek public will decide whether or not to accept the tough conditions set by its creditors. Key developments in this saga are depicted in the graph above.
In the meantime, capital controls have now been imposed by the government. Here are the key elements of these controls:
Greek banks are closed until July 6, 2015. Banking transactions within Greece, however, are allowed.
Cash withdrawals have been restricted to 60 euros a day.
Pension payments are not a part of capital controls.
Withdrawals from cash machines using foreign bank cards are permitted.
It's largely believed that a Grexit isn't likely to precipitate a contagion as widespread as the one in 2012. This is primarily due to the fact that most European nations (VGK) have slashed their Greek exposure and are no longer as vulnerable to a Greek default. Banking system contagion arising from a Grexit is more likely to affect periphery nations in the Eurozone. The Balkan states of Bulgaria, Albania, and Serbia are subject to Greek bank foreign claims worth 18.9%, 17.6%, and 11.2% of GDPs (gross domestic products), respectively, as you can see in the graph below.
Article continues below advertisement
Grexit might not precipitate a financial contagion, but the possibility of a political contagion is very likely. Other countries including Spain (EWP) and Italy (EWI), where anti-austerity parties are gaining favor, might decide to follow suit. The sanctity of the euro may be called into question. If it were, global turmoil (ACWI) and an upheaval of financial markets could ensue.
Greece might also end up looking at Russia to be its ally, a possibility with many political implications.
Ongoing talk of a possible Brexit—Britain's (EWU) exit from the European Union—following a national referendum on the question, are adding to investor woes and roiling markets. British Prime Minister David Cameron has said that he would renegotiate Britain's relationship with the EU before holdings such a referendum in 2017, if necessary.