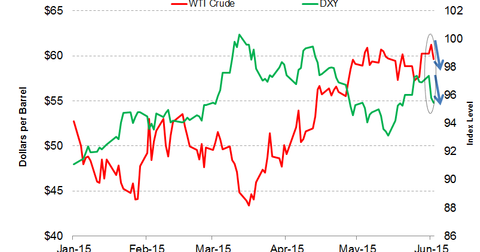 Rising Dollar and Oversupply in June Set Long-Term Trends in Oil
By Stuart McKenzie

Updated
Dollar fluctuation has been a key trend so far this year
Crude oil prices were feeling the pressure in early June as the US dollar rose. Expectations also lingered over whether oil production would stay with OPEC (Organization of the Petroleum Exporting Countries). This is a reason to worry about oversupply, in spite of the decline in US rig activity in early June by ~50% compared to 2014 levels.
According to a Reuters survey, OPEC pumped ~31 million barrels per day (or bpd) in May. This was the highest production figure for two and a half years. There were expectations that OPEC would retain its current policy on oil production at its meeting on Friday, June 5. This would cause the global oil market to be bountifully supplied over the short term.
Oil is priced in US dollars. An appreciation in the dollar is thus generally negative for oil prices. A strong dollar makes it expensive for global investors to purchase the commodity. We saw this negative correlation in part of March and May, 2015.
Article continues below advertisement
However, if we look at recent trades earlier this month, the trade-weighted dollar index (DXY) experienced a fall that was not accompanied by a rise in West Texas Intermediate (or WTI) crude oil prices. This was due to a stronger weighting of fundamentals with oil supplies expected to increase after OPEC met. Policy on production was expected to remain unchanged at the meeting.
National Oilwell Varco (NOV) has a PE (price-to-earnings) ratio of 8.52x. Halliburton (HAL) and Schlumberger (SLB) have PE ratios of 12.25x and 16.75x, respectively. These stocks are part of the Energy Select Sector SPDR Fund (XLE). NOV, HAL, and SLB make up 1.67%, 2.86%, and 7.19%, respectively, of SLE's holdings.
Oil concerns continue to impact the performance of energy companies. In terms of weekly returns, Cameron International Corporation (CAM) was the best performer with a trailing five-day return of 3.06%. CAM is part of the iShares U.S. Oil Equipment & Services ETF (IEZ) with an exposure of 3.35%.
In the next part of this series, we'll see how China's mixed economic results contributes to the sluggishness in oil prices.