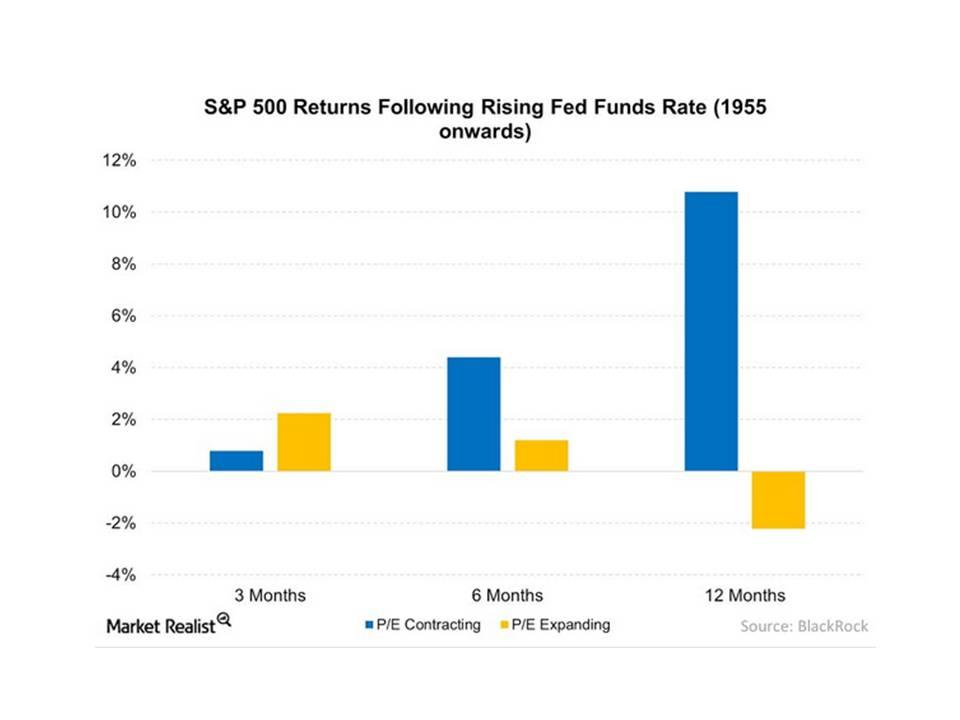 Rich Valuations and Higher Rates Lead to Poor Stock Returns
By Russ Koesterich, CFA

Nov. 20 2020, Updated 1:22 p.m. ET
However, a big caveat is warranted: the current valuations of U.S. equities are above average, although not at "bubble" levels, as I discuss in my latest Market Perspectives paper. And some areas of the market, the so-called "bond proxies," like utilities, are currently very expensive. Given that, stocks can move higher, even after the Fed moves, but longer-term returns are likely to be below the historical average, probably in the low to mid single-digit range.
Article continues below advertisement
Market Realist – Rich valuations and higher rates are a lethal combination for stocks.
In the three months following an initial rate hike, the S&P 500 (SPY) (VOO) has performed surprisingly better if valuations have been increasing over the past year, as the graph above shows. This is probably because the momentum that led multiples to expand continued despite tightening.
Over the longer term, however, multiple expansions, combined with tightening, leads to negative returns. In comparison, the S&P 500 has seen double-digit returns when the market is characterized by multiple contractions in the years preceding tightening. In these scenarios, the index has typically seen much better returns in the six months and 12 months following the tightening. The index has seen returns of 10.8% in the 12-month period after the initial rate hike, when the market is characterized with multiple contractions. It returned -2.2%, when the market saw multiple expansions in the preceding years.
However, this doesn't mean that you exit stocks. Sectors like financials (IYF) and technology (IYW) are looking quite attractive.
Meanwhile, try to stay away from sectors like the utilities (IDU). They require a lot of capital and are heavy on debt. Higher interest rates will increase their borrowing costs. As a result, it will squeeze their margins.