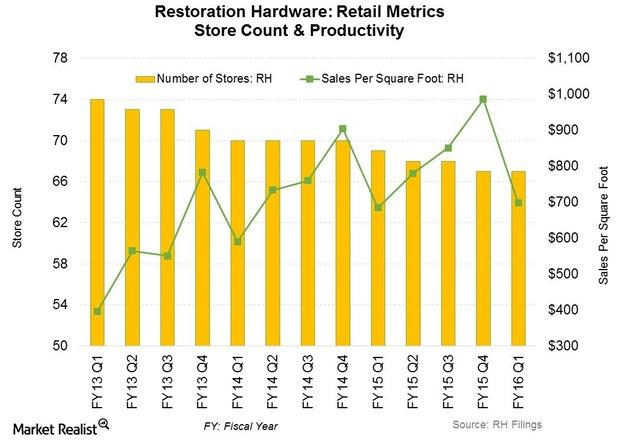 Restoration Hardware's New Luxury Retail Mantra: Bigger Is Better
By Phalguni Soni

Nov. 20 2020, Updated 5:13 p.m. ET
Why is Restoration Hardware swimming against the tide?
As we saw in the last article, high-end furnishings retailer Restoration Hardware (RH) recently announced a major initiative that goes against the grain of selling strategies used by most businesses in the industry. The new initiatives favor significantly higher future investments in brick-and-mortar stores.
Article continues below advertisement
Enter RH Modern
On June 11, on its 1Q16 earnings call, Restoration Hardware (RH) unveiled RH Modern, a new luxury retail concept store termed luxury gallery. The new concept stores will be six to eight times the size of RH's normal stores. These are slated for rollout in major North American markets this fall.
The new luxury retail outlets aim to create a palatial ambience that showcases premium furnishings. The stores will add ~120,000 square feet of retail space in the first year alone. Twenty existing RH legacy stores will have a dedicated space for RH Modern. After the first year, the company plans on adding 100,000 square feet of retail space for RH Modern each year.
These new stores are targeting the luxury market. RH's CEO (chief executive officer) Gary Friedman called the concept a disruptive influence in the fragmented luxury furnishings market.
Joining the big league
Restoration Hardware (RH) is targeting turnover of $4–$5 billion over the long haul, up from $1.9 billion reported last fiscal year. It's also projecting annual adjusted net income growth in the mid to high 20 percentage range over the long term.
Less than 10% of the luxury retailer's inventory is presently displayed in-store, so RH is developing a variety of store concepts to roll out in the future.
It remains to be seen whether Restoration Hardware (RH) can scale its upmarket offering enough so its best-in-class store productivity doesn't suffer. Luxury spending in the United States has been on the rise. Both Home Depot (HD) and Lowe's (LOW) have reported higher consumer (XLY) spending on costlier purchases in their last quarters.
That said, the Web has always been a strong contributor to RH's growth and store (RTH) (XRT) productivity metrics. But swimming against the tide while other home furnishing (XHB) (ITB) players are optimizing their store footprints may possibly provide better returns for Restoration Hardware (RH).